Master in Urban Planning and Policy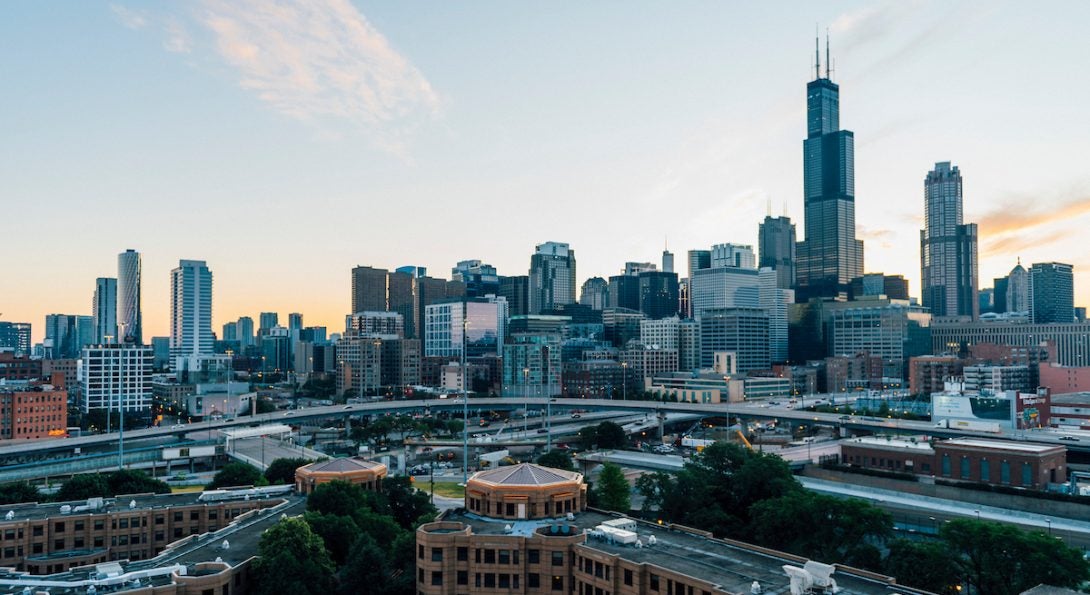 The Master in Urban Planning and Policy (MUPP) program at UIC is the only professional planning program in the Chicago metropolitan area that is fully accredited by the Planning Accreditation Board. With a large and diverse faculty and student body, the MUPP program offers a comprehensive range of courses, including many specialized electives and studios. Class sizes are typically small, with multiple sections of required courses offered in both day and evening. Graduates can connect to a large network of alumni, both locally and across the region, country, and world.
A minimum of 60 hours of graduate credit is required. The program is divided into five components: core courses, specialization courses, electives, internship, and a portfolio or thesis. The overall distribution of credits is as follows:
30 credits (eight courses) of core courses
12 credits (three courses) within one specialization
8 credits (two or more courses) of electives*
4 credits (one course) of internship
2 credits (one course) of Master's portfolio**
*Electives should be discussed with the academic advisor, must be at the 400 level
**Thesis may be done in lieu of portfolio. Up to 16 credits of thesis research can be taken
All MUPP students must take the following core courses:
UPP 458 Introduction to Geospatial Analysis and Visualization I (2 credits)
UPP 461 Geographic Information Systems
UPP 500 History and Theory of Urban Planning
UPP 501 Urban Space, Place and Institutions
UPP 502 Planning Skills: Computers, Methods and Communication
UPP 505 Plan Making
UPP 506 Plan Making Studio
UPP 508 Global Urbanization Planning
Current students should consult the MUPP Handbook, linked below, for information on how to request a waiver of a required course.
Five areas of specialization are offered to students of the MUPP program. At least one specialization must be completed, but there is room in the curriculum to pursue two specializations if desired. Students may pursue a specialization set by the department (listed below) or they may develop a user-defined specialization, subject to advisor and department approval. Students wishing to pursue a specialization of their own design should consult with their academic advisor. Twelve (12) semester hours are required to complete each specialization, however each has varying course requirements.
Specializations are:
The Professional Practice Internship (UPP 590) consists of 300 hours of fieldwork.
All internships allow students to build their professional network and apply their skills in real world planning situations. Chicago offers a multitude of internship opportunities ranging from government agencies and regional planning organizations to community groups and private consulting firms.
MUPP students regularly intern at places like:
American Planning Association
Austin Coming Together
Chicago Department of Planning and Development
Chicago Metropolitan Agency for Planning
Chicago Rehab Network
Chicago Transit Authority
City of Desplaines
Elevate Energy
Federal Home Loan Bank of Chicago
Holsten Real Estate Development Corporation
Local Initiatives Support Coalition
Metropolitan Planning Council
Regional Transit Authority
Although most students do their internships in the Chicago area, students may also seek an internship placement in another U.S. location or even a foreign country.
Beginning with our Fall 2018 cohort, MUPP students will be required to prepare an Urban Planning Portfolio to fulfill the requirements of the MUPP program (replacing the former requirement of the Master's Project). Most portfolio materials will come from excerpts and refinements of previously completed UPP coursework. In addition, the portfolio will include newly developed reflective documents, such as a professional statement, goals, and a resume. The portfolio encourages student reflexivity and self-assessment and ultimately provides graduates with a useful career tool by demonstrating knowledge, skills, and capabilities to prospective employers. Students take UPP 595 Portfolio Development Seminar (2 credits) in their final semester of the program, where they receive guidance on developing the portfolio. A completed and approved portfolio is necessary to pass UPP 595.
In lieu of the Master's Portfolio, students have the option of writing a thesis. The thesis is a more traditional piece of academic research and differs from the portfolio with respect to content, credit hours, and advising.  The thesis frequently involves the analysis of historical materials and use of secondary sources. An exploration of planning theory or research methods would also be appropriate in a thesis. Students interested in pursuing the thesis option should consult with their faculty advisor early in their final year of the program.
Degree-seeking students are governed by the policies and requirements in effect during their first registered semester of the program. Official policies are detailed in the student handbooks, which are specific to each cohort.
Prospective students: Please feel free to explore the handbook to learn more about the program. Please note that program requirements and/or policies may vary in future years. Current students: Please consult only with the handbook that corresponds to the year you began the program.
All of our UPP graduate degrees are STEM classified under Sustainability Studies which means that international students with F-1 visas are eligible to remain in the US under the OPT (Optional Practical Training) program for up to three years and two months after graduation. Students with H-1b visas can stay up to 9 years after graduation.