MUPP/MPH Joint Degree
Introducing the Joint Degree in Urban Planning and Public Health at UIC.
This master's degree allows you to work at the intersection of planning, policy, and community health by integrating the skills and competencies provided by two of the most respected graduate programs in the nation.
The UIC College of Urban Planning and Public Affairs (CUPPA) and the UIC School of Public Health (SPH) work collaboratively to deliver the Master of Urban Planning and Policy/Master of Public Health (MUPP/MPH).  Programs of study leading to the joint MUPP/MPH degree are offered by the following SPH Divisions:
Community Health Sciences
Environmental and Occupational Health Sciences
Epidemiology
Health Policy and Administration
All of our UPP graduate degrees are STEM classified under Sustainability Studies which means that international students with F-1 visas are eligible to remain in the US under the OPT (Optional Practical Training) program for up to three years and two months after graduation. Students with H-1b visas can stay up to 9 years after graduation.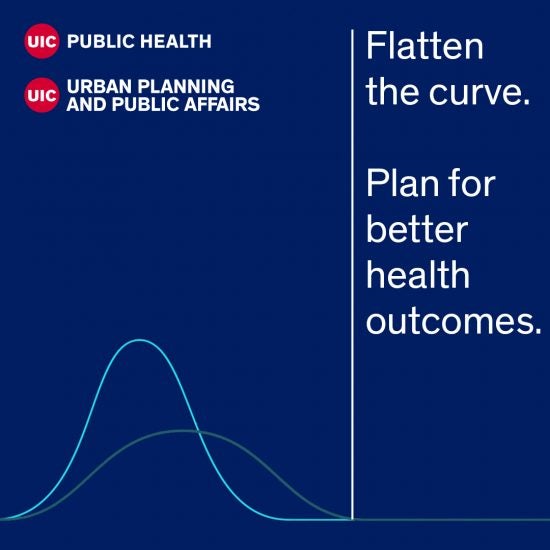 Virtual Information Session
Urban communities need you now more than ever, and there's no better time to get engaged. Ready to learn more?
You missed our LIVE event, but that's okay – we recorded it for you! Click the link to hear more directly from representatives of the degrees.
Watch Now
Degree Requirements
For MUPP degree requirements, students complete the core courses for the division they are enrolled in.
MUPP Degree Requirements

Master of Urban Planning and Policy Core Curriculum

UPP 458 – Introduction to Geospatial Analysis and Visualization I (2 semester hours)
UPP 461 – Geographic Information Systems for Planning (4 semester hours)
UPP 500 – History & Theory of Planning (4 semester hours)
UPP 501 – Urban Space, Place and Institutions (4 semester hours)
UPP 502 – Planning Skills: Computers, Methods and Communications (4 semester hours)
UPP 505 – Plan-Making (4 semester hours)
UPP 506 – Plan-Making Studio (4 semester hours)
UPP 508 – Global Urbanization and Planning (4 semester hours)
UPP 590 – Professional Practice Experience (4 semester hours)
UPP 595 / 598 – Master's Portfolio/Master's Thesis (2 to 16 semester hours)

Specialization Requirements for the MUPP

Students complete one of the following specializations.  For all specializations, students must complete the number of electives to bring the total program hours to a minimum of 60 semester hours.  For students pursuing the Master's Portfolio option, 12 elective credits are typically needed.

Economic Development

UPP 530 – Economic Development I: Analysis (4 semester hours)
UPP 531 – Economic Development II: Planning (4 semester hours)
UPP 53x – Economic Development Elective or another faculty approved course (4 semester hours)

Community Development

UPP 540 – Community Development I: Theory (4 semester hours)
UPP 541 – Community Development II: Practice (4 semester hours)
UPP 54x – Community Development Elective or another faculty approved course (4 semester hours)

Spatial Planning

UPP 550 – Spatial Planning: Theoretical Foundations (4 semester hours)
UPP 556 – Spatial Planning & Design: Studio (4 semester hours)
UPP 557 – Spatial Planning: Methods or another faculty approved course (4 semester hours)

Urban Transportation

UPP 560 – Urban Transportation I: Introduction (4 semester hours)
UPP 562 – Urban Transportation: Models and Methods (4 semester hours)
UPP 56X – Urban Transportation Elective or another faculty approved course (4 semester hours)

Environmental Planning and Policy

UPP 570: Environmental Planning and Policy (4 semester hours)
UPP 57x: Environmental Planning Elective or another faculty approved course (4 semester hours)

Select one of the following methods courses:

UPP 571 – Economic and Environmental Planning (4 semester hours)
UPP 572 – Systems Methods for Environmental Planning and Policy (4 semester hours)

MPH Degree Requirements

School-Wide Core Requirements (18 semester hours)

IPHS 401 – Determinants of Population Health (4 semester hours)
IPHS 403 – Public Health Systems, Policy and Management (4 semester hours)
IPHS 650 – Applied Practice Experience in Public Health (3 semester hours)
IPHS 698 – Integrative Learning Experience (1 semester hours)
IPHS 650 – Interprofessional Education (0 semester hours)

A total of six semester hours must be completed from the following courses:

IPHS 402 – Analytic and Research Methods in Public Health (onsite)  (6 semester hours)

or

IPHS 404 – Analytic and Research Methods in Public Health Part 1 (online)  (3 semester hours)
IPHS 405 – Analytic and Research Methods in Public Health Part 2 (online)  (3 semester hours)

With proper planning, IPHS 560 may be satisfied by UPP Professional Practice Experience (UPP 590).

The MPH Integrative Learning Experience should reflect the integration of the student's public health and urban planning training.

Community Health Sciences Division Core

Required Courses

CHSC 421 – Community Health 1: Assessing, Promoting and Improving Community Health (4 semester hours)
CHSC 422 – Community Health 2: Evidence-Informed Community Health Interventions (4 semester hours)
CHSC 423 – Community Health 3: Professional Development in Public Health Practice (4 semester hours)

Students must choose one selective course:

CHSC 430 – Public Health Policy and Advocacy (3 semester hours)
CHSC 527 – Critical Issues in Long Term Care Policy (3 semester hours)
CHSC 543 – MCH Policy and Advocacy (3 semester hours)

Concentration

Complete an approved concentration:

Population Health
Community Health Interventions
Community-Based Research Methods
Global Health
Community Development (through the MUPP program)

Environmental and Occupational Health Sciences Division Core

Required Courses

EOHS 401 – Ethics and Justice in Environmental and Occupational Health (2 semester hours)
EOHS 402 – Systems Approaches in Environmental and Occupational Health (4 semester hours)
EOHS 440 – Chemistry for Environmental Professionals (3 semester hours)
EOHS 495 – Environmental and Occupational Health Sciences Seminar (1 semester hour)
EOHS 501 – Exposure Assessment Strategies (3 semester hours)
EOHS 502 – Environment, Toxicology, and Disease (4 semester hours)
EOHS 556 – Risk Assessment in Environmental and Occupational Health (3 semester hours)

Computing Skills Selective

Select at least one of the following courses:

BSTT 494 – Intro to Data Analysis R (4 semester hours)
BSTT 568 – Programming and Simulation in R (2 semester hours)
BSTT 594 – Big Data Analytics (3 semester hours)
EOHS 436 – GIS for Environmental and Public Health Professionals (4 semester hours)
EOHS 475 – Health Related Database Design & Analysis (4 semester hours)
EOHS 556 – Risk Assessment Environmental and Occupational Health (3 semester hours)
EOHS 571 – Injury Epidemiology (3 semester hours)
EPID 406 – Epidemiologic Computing (3 semester hours)

Electives

Students must complete the number of electives necessary to bring the total program hours to a minimum of 42 semester hours.

Epidemiology and Biostatistics Division Core

Required Courses

EPID 404 – Intermediate Epidemiologic Methods (4 semester hours)
EPID 406 – Epidemiologic Computing (3 semester hours)
EPID 410 – Epidemiology of Infectious Diseases (2 semester hours)
EPID 411 – Epidemiology of Chronic Diseases (3 semester hours)
EPID 591 – Current Epidemiologic Literature (2 semester hours)
BSTT 401 – Biostatistics II (4 semester hours)

Electives

Students must complete the number of electives necessary to bring the total program hours to a minimum of 42 sh.

Health Policy and Administration Division Core

Required Courses

HPA 420 – U.S. Health Care System for Public Health Practitioners (3 semester hours)
HPA 415 – Introduction to Public Health Policy (3 semester hours)
HPA 431 – Public Health Law and Ethics (3 semester hours)
HPA 432 – Public Health Policy and Practice (3 semester hours)
HPA 444 – Strategic Planning and Budgeting (1 semester hour)
HPA 460 – Introduction to the Economics of Health and Healthcare (3 semester hours)
HPA 567 – Health Policy Analysis (3 semester hours)
HPA 499 – Introduction to Research Design for Public Health Practitioners (1 semester hour)

Electives

Students must complete the number of electives necessary to bring the total program hours to a minimum of 43 semester hours.

Program Navigation

Students of the MUPP/MPH Joint Degree program will navigate the program as shown above ^^^
Joint Degree Contacts
Dominic Belcaster
College of Urban Planning and Public Affairs Contact
Susan Altfeld
School of Public Health Contact