CUPPA Copes With COVID-19
In these uncertain times, it is important to take care of our communities. On this "micro-site" we will provide reflections and resources to help us stay connected and resilient.
Contribute to Six Feet Apart: Stories from UIC during COVID-19 Heading link
The University of Illinois at Chicago's Special Collections and University Archives is launching a project to collect stories, photos, artwork and other current materials from the university community to document how the COVID-19 pandemic is affecting life at UIC.
The effort, dubbed Six Feet Apart: Stories from UIC during COVID-19, is a way to document history in the making as the world, the nation, municipalities and college institutions, including UIC, attempt to cope with this pandemic. As with past pandemics, the records created by these entities will be studied in the future.
Some ways to share your story:
Write a journal entry, poem, blog post, or even an essay detailing how you have dealt with your current situation,
record a voice memo,
save your social media posts (as a screenshot!)
take photos and/or videos of life as you see it,
create a piece of artwork, whether drawing, painting, etc.
create a multimedia work of digital storytelling
Please adhere to city, county, and state stay-at-home orders while self-documenting.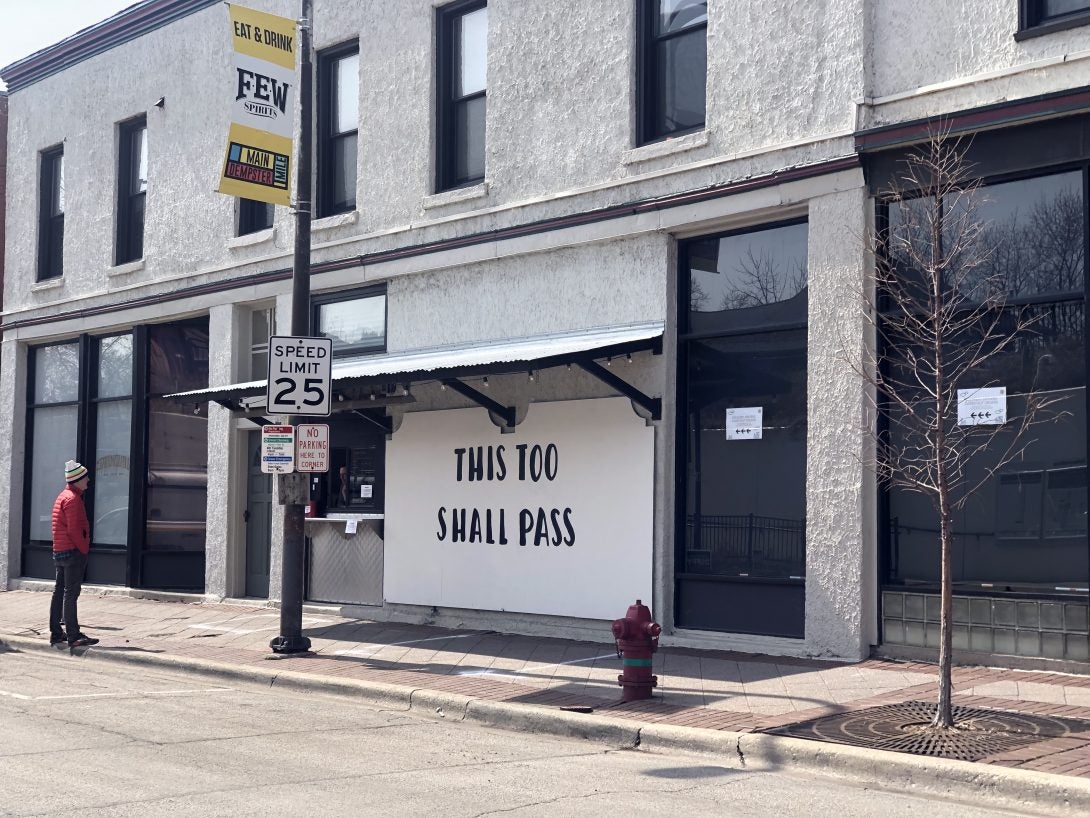 Though physical distancing has limited most of our day-to-day activities, many people are finding solace by taking neighborhood walks. MUPP Annie Howard writes:
"For me, walking is a ritual that's not only allowed me to work around the grim reality of social distancing, but also reminded me of what's so magical about living where I do. More than anything else I've turned to in the past week, getting to go on walks, whether alone or with nearby friends, has helped me stay within my body and in this moment in ways that have made the thought of getting through everything feel possible."
Have you seen anything inspiring on your neighborhood walks? Take a picture and tag us with #CUPPAWalks!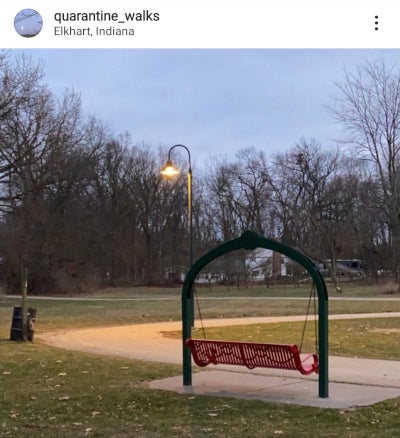 When Northwestern University senior Lois Biggs abruptly found herself back in her Grand Rapids, Michigan home late last Thursday, forced there by the rapid spread of coronavirus, she left her house and began walking.
In a moment in which everyday life slipped away without warning, Biggs turned to an extended nighttime walk to begin making sense of the insensible, looking for understanding when little added up. Though it couldn't change the circumstances which brought her there, that nighttime stroll became an important experience for Biggs, as she began noticing the ways in which her surroundings helped restore a sense of connection in uncertain times.
In the following days, after taking more walks and collecting photographs of her neighborhood, Biggs started the @quarantine_walks Instagram account. Opening the account for others to share their walks from afar, Biggs soon discovered that many others had turned to walking, soon receiving submissions from beyond her friend circle. Since then, Biggs has continued to post new submissions as she receives them, extending a sense of virtual connection-in-solitude that pushes against the total isolation we might feel otherwise.
Part of the CUPPA Copes With COVID-19 video series: Em Hall! Heading link
UPP PhD Student and UTC Research Assistant, Em Hall, gives us a glimpse of what she's been up to at home with her three feline colleagues.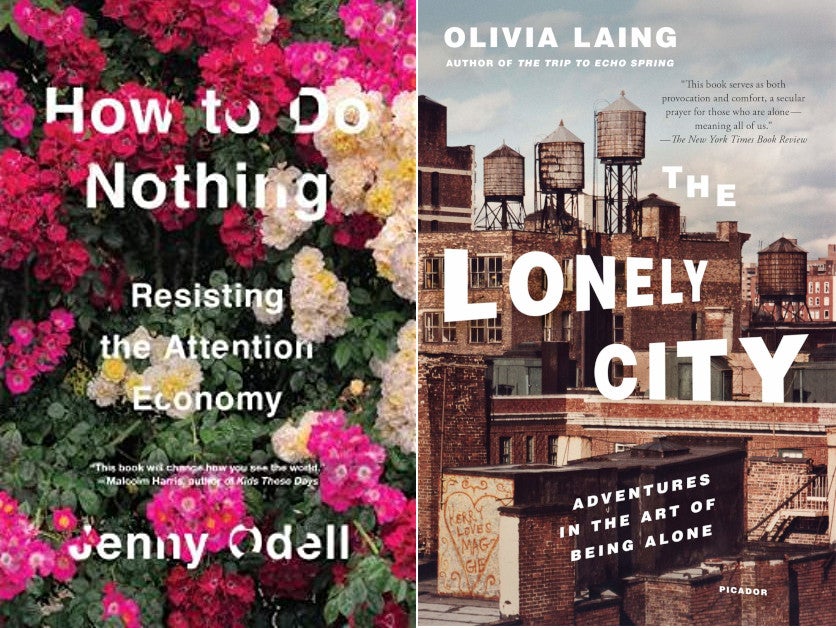 In "How To Do Nothing" author Jenny Odell guides readers on how to slow down in a world where our value is determined by our productivity. MUPP Taylor Long writes:
"The book is particularly prescient now as the CUPPA community — a civically engaged bunch of intellectuals, activists, artists, politicians and organizers — grapples with the reality that by doing nothing we are, in fact, doing what is best for our communities. The book has much to teach us about refocusing our attention during this anxiety-producing time, offering a framework for managing the onslaught of social media commentary while tuning into our surroundings, individual needs, and the needs of our families and communities."
MUPP Annie Howard reflects on "The Lonely City", a memoir by Olivia Laing in which she explores her loneliness through art in New York City. Annie writes:
"The Lonely City is a unique book, blending elements of art history, memoir, and psychology to unravel the complexities of loneliness in urban space. Its interest to planners may not immediately jump off the page, given its emphasis on artworks and the emotional experience of cities. Still, Laing raises a number of challenging questions about what cities look like today, and the ways in which forces like gentrification are making it harder to find space in cities that's meaningfully inhabitable by diverse populations of residents."
| Title | Author | Description |
| --- | --- | --- |
| Winners Take All | Anand Giridharadas | The New York Times bestselling, groundbreaking investigation of how the global elite's efforts to "change the world" preserve the status quo and obscure their role in causing the problems they later seek to solve. |
| The Color Of Law | Richard Rothstein | Richard Rothstein argues with exacting precision and fascinating insight how segregation in America—the incessant kind that continues to dog our major cities and has contributed to so much recent social strife—is the byproduct of explicit government policies at the local, state, and federal levels. |
| Juliet Takes A Breath | Gabby Rivera | The coming-of-age story of a college kid from the Bronx trying to figure out who she is — a feminist, a lesbian, dying to get out of the Bronx, "messy, emotional, book nerd weirdo, chubby brown human, a jumble of awkward bits and glory." |
| Underground: A Human History of the Worlds Beneath Our Feet | Will Hunt | When Will Hunt was sixteen years old, he discovered an abandoned tunnel that ran beneath his house in Providence, Rhode Island. Underground is both a personal exploration of Hunt's obsession and a panoramic study of how we are all connected to the underground, how caves and other dark hollows have frightened and enchanted us through the ages. |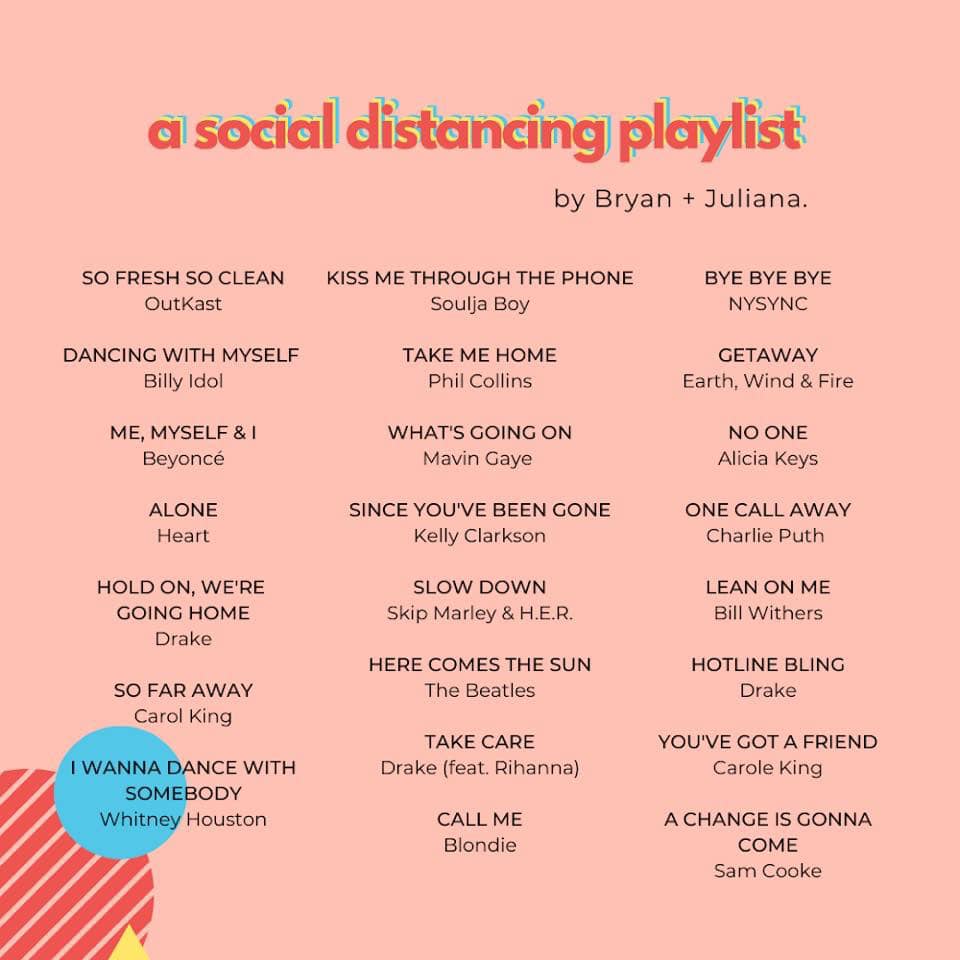 We know that physical distancing can save lives, but that doesn't mean it has to be boring! Illinois Lieutenant Governor Juliana Stratton created this playlist for you to groove to while doing your work. We also added a few of our favorite songs at the end!
It is important for us to stay connected. Do you have any suggestions to make staying home better? Have you been inspired by any books/movies/podcasts recently? How are you helping your community during this trying time? We want to know! Send us your thoughts and we will add them to our list of resources.