CUPPA Walks Interview With Lois Biggs
When Northwestern University senior Lois Biggs abruptly found herself back in her Grand Rapids, Michigan home late last Thursday, forced there by the rapid spread of coronavirus, she left her house and began walking. In a moment in which everyday life slipped away without warning, Biggs turned to an extended nighttime walk to begin making sense of the insensible, looking for understanding when little added up. Though it couldn't change the circumstances which brought her there, that nighttime stroll became an important experience for Biggs, as she began noticing the ways in which her surroundings helped restore a sense of connection in uncertain times.
In the following days, after taking more walks and collecting photographs of her neighborhood, Biggs started the @quarantine_walks Instagram account. Opening the account for others to share their walks from afar, Biggs soon discovered that many others had turned to walking, soon receiving submissions from beyond her friend circle. Since then, Biggs has continued to post new submissions as she receives them, extending a sense of virtual connection-in-solitude that pushes against the total isolation we might feel otherwise.
What does walking mean for you in the moment that we're in?
I think so much of surviving right now is about relationships and caring for each other. And I think that walking is an act that really expresses that, because it's about our relationship to our bodies, our relationship to space, our relationship to land and to buildings and to other people. Being aware of spatial relationships is a good place to reflect on all kinds of relationships, I think, no. I find that when I go for a walk, I'm thinking about everything, I'm often thinking about the really scary, serious things going on, but something about walking and sensing the world around me at the same time makes it feel less overwhelming, because you have to think about moving your feet forward and moving your body in space, so there's one part of your brain that isn't occupied by worry and concern, if that makes sense.
What led you to creating the account?
On the first night that I came back home last Thursday [March 12], I was feeling so overwhelmed and scared and stressed out, and I just went on a really long walk. I found myself taking pictures as I was going, and it was bringing me a lot of peace just to kind of return to that relationship to the space and pay attention to the houses and pay attention to the light and everything, the particular personality of the built environment. I found that really comforting, so I started doing that more and more. I don't really know where the idea for the account came from, because I wanted to post them, but then I wondered if other people were maybe doing the same thing. So I just started the account, and started sharing it with friends.
It's cool, because at first it just was people that I knew who were sharing their walks, and talking to me with awareness that it was me running it. But now it's growing more and more to friends of friends, people finding through it geotags. It's really beautiful and fascinating to see what people notice on their walk. Because I'm very interested, in my academic and art history related work, in critical spatial practice and relationships to space and the built environment, and I feel like the pictures that people take have a lot about that. I think now is a time when we want to be centering and thinking about relationships, and spatial ones are a big part of that. So to be able to see something that highlights that, that also brings people together through social networks is really exciting to me. And I'm really looking forward to seeing how it develops and where else people will be taking photos from and what it'll look like in the next couple of days. There's so much that I'm scared for the next couple of days, next couple of weeks too, but to have like that space means a lot.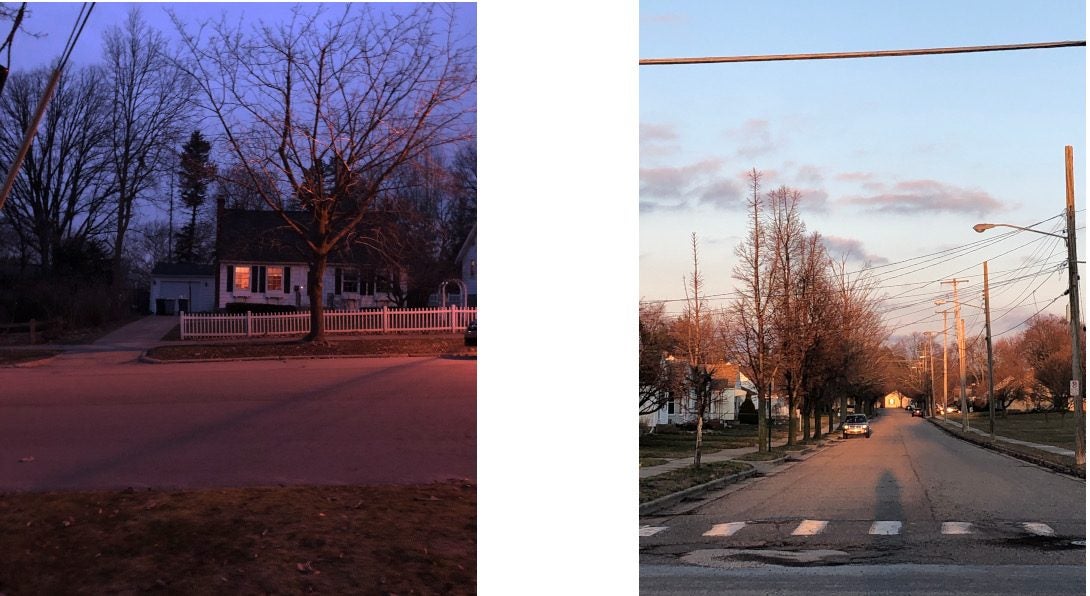 Where have you been walking?
Not too far, mostly around our neighborhood. Yesterday we drove out to this pretty big park, Townsend Park, maybe a 15-minute drive from here, and we walked all around the park and went on these trails in the woods too. It was so nice. I haven't really gotten together with any friends around here to walk yet –I'm kind of being cautious because one of my best friends who lives here just got back from New York a few days ago, and I know that she's pretty strictly self-quarantining just because it's so widespread in New York, so we're kind of holding off on that. I'm looking forward to hopefully doing more walks with friends, family members and family friends in the area in the next couple of weeks.
What's it like near your house?
I always love it when I come home to my parent's neighborhood. There's just all these small houses, and it's a very quiet neighborhood, and I see people out walking their dogs all the time. The houses are just like little boxes dotting the street. I always love walking around here at sunset and seeing the light on the buildings. Walking around at night, there's something really calming about it, like it gives me the same feeling as the Yo La Tengo album cover with the house on it, And Then Nothing Turned Itself Inside Out. I always think of that.
Interview By Annie Howard