UIC City Design Charrette Students to Present McKinley Park Infrastructure Plan Options on June 10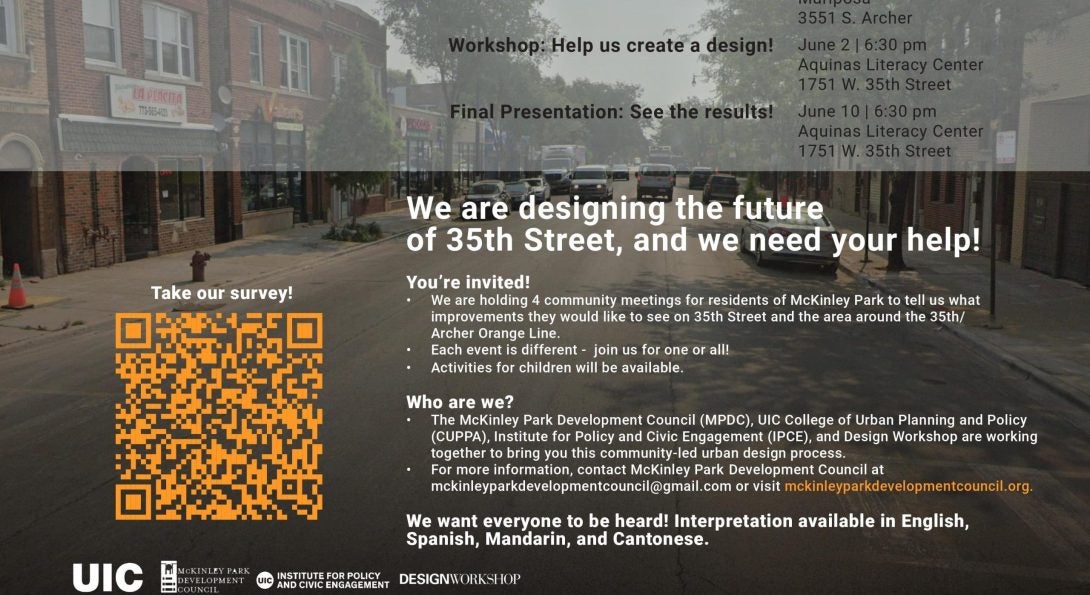 On June 10, the UIC Master of City Design (MCD) Summer Studio, aka the 'Chicago Charrette,' will hold a final presentation and showcase in the Aquinas Literacy Center at 6:30 pm. Attendees will witness cutting-edge planning proposals and community improvement projects conceived by MCD students with the help of institutional partners and professional practitioners over four intense weeks. The event will include a community presentation, a public exhibition, and a video documenting the entire charrette process.
The Chicago Charrette was developed by faculty of the MCD and Urban Planning and Policy Department  as a community-immersive, collaborative-planning studio. The course is supported by the UIC Institute for Policy and Civic Engagement (IPCE) and offers a hands-on field-based environment for learning community engagement at the intermediate urban scale. Working with seasoned scholars, professional practitioners, engaged residents, and community organizers, students engage with diverse place-based communities to co-create meaningful design solutions.
Professors April Jackson and Sanjeev Vidyarthi of the Urban Planning and Policy Department are instructing 12 students in the course; seven are enrolled in the MCD program and 5 in the Master of Urban Planning and Policy (MUPP) program. The diverse cohort brings together a wide variety of worldly experiences and prior training in fields such as landscape architecture, regional and urban planning, architecture, design communications, and community development.
The objective for the studio this semester, says Jenna Pollack, IPCE Digital Media and Communications Research Assistant, "is to make inventive and feasible plans for three public infrastructure and civic realm projects in McKinley Park. This includes envisioning potential Transit Oriented Development (TOD) around the 35th/Archer Orange line stop and feasible design proposals for a large empty lot located at the intersection of 35th and Leavitt."
One of the main community stakeholders collaborating with the Chicago Charrette Studio is McKinley Park Development Council (MPDC), a non-partisan group of concerned residents, teachers, and business owners working to collectively foster economic, cultural, and social development in the McKinley Park neighborhood. The Design Workshop, an international design studio working across the fields of landscape architecture, urban design, planning, economics and engagement, will lead the formal charrette process in McKinley Park.
Students will also gain meaningful insight from a diverse range of accomplished practitioners, researchers, and scholars, Pollack said.
"So far, we have had the pleasure of hosting Paola Aguirre of Borderless Studio, Kimshasa Baldwin of Deture Culsign Architecture+Interiors, Dr. Joseph Hoereth of IPCE, Courtney Kashima of MUSE Community Design, and Les Pollack of Camiros."
The Chicago Charrette provides students with a unique experience to learn the relevant methods and professional tools for collaborative planning work with an array of diverse partners, while also providing the opportunity for community stakeholders, like the MPDC, to gain the trusteeship of a co-produced professional-quality plan document aimed at enhancing the quality of neighborhood life.
The City Design program was started in UIC's College of Urban Planning and Public Affairs' Urban Planning and Policy Department in 2018. The MCD offers an interdisciplinary learning experience that blends elements of architecture, landscape architecture, urban studies, urban planning, and other creative fields. Students experience intensive city-based courses and studios that provide immersive exposure to integrated design and contemporary professional practice in the great city of Chicago.
Modified on May 31, 2022