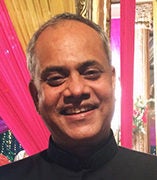 Sanjeev Vidyarthi, Ph.D
Associate Professor, Director of Master of City Design Program
Senior Fellow, Great Cities Institute
Urban Planning and Policy
Contact
Building & Room:
217 CUPPA Hall, MC 348
Address:
412 S. Peoria St., Suite 215
Office Phone:
Email:
CV Download:
Related Sites:
About
Trained as an architect, urban designer and spatial planner, Sanjeev studies how to make better plans for places. Exploring city planning and designing efforts across policy and spatial scales in a variety of settings like neighborhoods, new towns, historic places and mega-regions, his research explores who does (and should do) the city design and planning work. Sanjeev has lived, worked and studied in the Middle East, Western Europe, and the United States while examining the case of independent India using a comparative lens, insider/outsider perspective and an integrative framework. He works with progressive scholars and professional practitioners worldwide.
Selected Publications
Vidyarthi, S. Spatial Plans in Post-liberalization India: Who's making the plans for fast-growing Urban Regions? Journal of Urban Affairs (In Press) DOI: 10.1080/07352166.2018.1527658
Vidyarthi, S. The Built Environment: How Infrastructure Shapes City Design Today and Tomorrow, in Mike Pagano, ed. The Public Infrastructure of Work and Play,  (Champaign: University of Illinois Press, 2018).
Vidyarthi, S and C. Hoch. Learning from Groundwater: Pragmatic Compromise Planning Common Goods. Environment and Planning C: Politics and Space (2018) DOI: 10.1177/2399654417723343
Vidyarthi, S., S. Mathur and S. Agrawal. Understanding India's New Approach to Spatial Planning and Development (Oxford University Press: New Delhi, 2017)
Vidyarthi, S. One Idea, Many Plans: An American City Design Concept in Independent India (New York & London:  Routledge, 2015).
Education
PhD 2008 The University of Michigan, Ann Arbor, Urban and Regional Planning
MUP 2006 The University of Michigan, Ann Arbor, Urban Planning
M.Arch 2003 KU Leuven, Belgium, Human Settlements
B.Arch 1991 Sir JJ College of Architecture, University of Bombay, Architecture