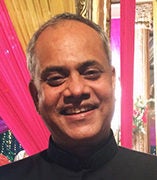 Sanjeev Vidyarthi, Ph.D.
Professor and Department Head
Director, Master of City Design Program
Urban Planning and Policy
Contact
Building & Room:
# 217 CUPPA Hall
Address:
412 S. Peoria St, MC 348
Office Phone:
Email:
CV Link:
Related Sites:
About
Trained as an architect, urban designer and spatial planner, Sanjeev studies how to make better plans for places.
Exploring spatial plans and city design efforts in a variety of urban and suburban settings, like planned neighborhoods, new towns, historic cities, and mega-regions, his research explores who does (and should do) the planning work.
Sanjeev has lived, worked and studied in the Middle East, Western Europe, and the United States while exploring the case of city planning in contemporary India. His scholarship combines a comparative lens, integrative framework, and insider/outsider perspective.
Sanjeev works with progressive scholars and professional practitioners worldwide.
Selected Publications
Academic books
Hāthigaon: A Settlement of Elephants and Mahouts. Altrim, 2022 [With Megha Bhatnagar, Gaurav Bhatnagar and Rajan Bhatt]
City Planning in India: 1947-2017. Routledge, 2020 [with Ashok Kumar and Poonam Prakash]
Understanding India's New Approach to Spatial Planning and Development. Oxford, 2017 [with Shishir Mathur and Sandeep Agrawal]
One Idea, Many Plans: An American City Design Concept in Independent India. Routledge, 2015.
Recent essays
Charles Hoch: A Pesky Pragmatist. Colloquium with Bish Sanyal, John Forester, and Niraj Verma. Planning Theory, 2019.
Spatial Plans in Post-liberalization India: Who's Making the Plans for Fast-growing Urban Regions? Journal of Urban Affairs, 2018.
Learning from Groundwater: Pragmatic Compromise Planning Common Goods. [With Charlie Hoch] Environment and Planning C, 2018.
Education
PhD - The University of Michigan, Ann Arbor, Urban and Regional Planning
MUP - The University of Michigan, Ann Arbor, Urban Planning
M.Arch - KU Leuven, Belgium, Human Settlements
B.Arch - Sir JJ College of Architecture, University of Bombay, Architecture