UIC-NGL-IOWA Intergovernmental Agreements Networks Dataset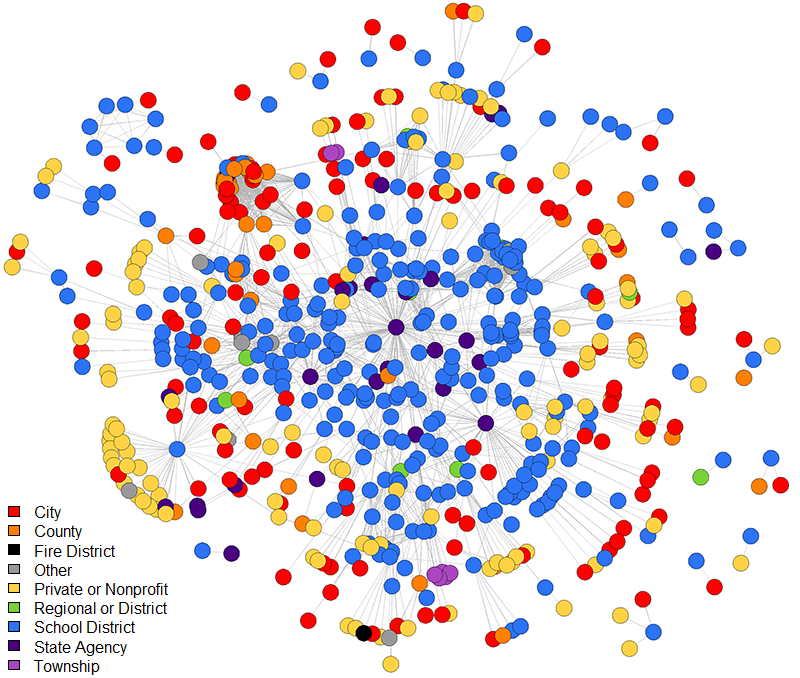 The data on intergovernmental agreements in Iowa was generated by taking advantage of a state law requiring interlocal and intersector agreements be filed with the state government before they can be entered into force (Iowa Code, Chapter 28E, Section 8). The Iowa Secretary of State maintains an interlocal agreement filing repository that can be accessed online. In addition to hosting photocopies of each agreement, their website allows the public to search for agreements based on metadata provided by each agreement's filer. The search categories include: participant name, service type, agreement file date range, organization type, county, state region, and internal filing number. Each agreement's webpage also lists its filing number, filing date, expiration date, and a one-sentence summary of purpose.
Using custom-made web scraping scripts, all of the metadata publicly available was extracted from the Secretary of State. The resulting data set included agreements spanning from January 1993 to December 2017 grouped into 33 service areas. (Going forward, staff at the Networks and Governance Lab at UIC annually will add information on new agreements, revisions and terminations to the dataset.) Prior to analysis, typographical errors (e.g., misspellings of and variance in the use of contractions and acronyms that refer to an organization across agreements) and organization classification mistakes (e.g., categorizing a municipality as a county) were manually corrected.