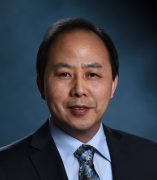 Yonghong Wu
Professor and Director of Graduate Studies
Public Policy, Management, and Analytics
Contact
Building & Room:
2112 AEH, MC 278
Address:
400 S. Peoria St., Suite 2100
Office Phone:
Email:
CV Link:
About
Dr. Yonghong Wu is the Director of Graduate Studies and a Professor in the Department of Public Policy, Management, and Analytics at the University of Illinois Chicago. He received Ph.D. degree in Public Administration from the Maxwell School of Syracuse University. His fields of specialization include state and local public finance, and science and technology policy. Dr. Wu's research has focused on state and local fiscal policy-making and public finance issues in science and technology policy arena.
Selected Publications
Wu, Yonghong. (2020). America's Leaning Ivory Tower: The Measurement of and Response to Concentration of Federal Funding for Academic Research. Springer.
Wu, Yonghong and Yu Shi. (Forthcoming). "Does General Fund Balance Stabilize Municipal Expenditure? Evidence from Large American Cities," International Journal of Public Administration.
Wu, Yonghong and Yu Shi. (2018). "How Does Intergovernmental Fiscal Environment Affect General Fund Balances of Major American Cities?" Local Government Studies 44(6), 745–765.
Wang, Wen and Yonghong Wu. (2018). "Why Are We Lagging Behind? An Empirical Analysis of Municipal Capital Spending in the United States," Public Budgeting & Finance 38(3), 76–91.
Education
Ph.D. Maxwell School of Citizenship and Public Affairs, Syracuse University (New York, U.S.), 2004
M.L. Tsinghua University (Beijing, P.R. China), 1993
B.S. Tsinghua University (Beijing, P.R. China), 1990