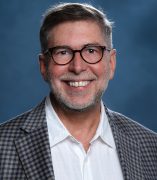 Curtis Winkle, PhD
Associate Professor
Associate Dean for Academic Affairs
Urban Planning and Policy
Pronouns: He/Him/His
Contact
Building & Room:
132 CUPPA Hall, MC 348
Address:
412 S. Peoria St.
Office Phone:
Email:
About
Curt Winkle has conducted research on planning healthy cities, urban food systems, coalition development, the role of the nonprofit sector, HIV/AIDS and gay commercial districts.  He is currently working on research that examines the possible roles of Business Improvement Districts in improving urban health.
His teaching includes the following courses: Planning Healthy Cities, Urban Food Systems, Urban Space, Place and Institutions, Planning Skills: Computers, Methods and Communication, Making Plans Workshop, Evaluation Methods and Data Analysis for Planning and Management.
Selected Publications
Winkle, Curt and David Perry. "Shifting Roles for Campus-Building in University-Community Relationships" in Universities Inside of Communities. Agnes Kover-Van Til and Gabriele Franger. Central European Press.  Forthcoming.
Winkle, Curt. "Gay Commercial Districts in Chicago and the Role of Planning." Planning and LGBTQ Communities: The Need for Inclusive Queer Spaces. Routledge, 2015.
Sheila R. Castillo, Curtis R. Winkle, Stephen Krauss, Amalia Turkewitz, Cristina Silva, and Edie S. Heinemann. Regulatory and Other Barriers to Urban and Peri-Urban Agriculture: A Case Study of Urban Planners and Urban Farmers from the Greater Chicago Metropolitan Area. Journal of Agriculture, Food Systems and Community Development. Spring 2013.  
Nisha D. Botchwey, Susan E. Hobson, Andrew L. Dannenberg, Karen G. Mumford, Cheryl K. Contant, Tracy E. McMillan, Richard J. Jackson, Russell Lopez, Curtis Winkle. A Model Curriculum for a Course on the Built Environment and Public Health: Training for an Interdisciplinary Workforce.  American Journal of Preventive Medicine.  February 2009 (Vol. 36, Issue 2, Pages S63-S71)
Simin Davoudi and Curtis Winkle. Conference Report Bridging the Divide: Celebrating the City. Town Planning Review, 2008  (Vol. 79, Issue 9, Pages 463-467)
Curtis R. Winkle, "Top-Down Coalitions and AIDS: Benign Neglect, Social Control or Empowerment?" Maternal Child Health Coalition News, December 1994.
Curtis R. Winkle and Douglas G. Ward-Chene, "Power, Social Support and HIV-Related Service Use: The Role of Community and Homelessness," Journal of Health & Social Policy, Vol. 4 (2), 1992: 47-72.
Curtis R. Winkle, "Inequity and Power in the Nonprofit Sector: A Comparative Analysis of AIDS-Related Services for Gay Men and Intravenous Drug Users in Chicago," Nonprofit and Voluntary Sector Quarterly, Vol. 20, (3), 1991: 313-328.
Service to Community
West Loop Design Guidelines Working Group, Chicago Department of Planning and Development, 2017
Development Committee, West Loop Community Organization, 2014-
Chair, Planning Accreditation Board Site Visit Team, 2016.
Nominations and Elections Committee, Association of Collegiate Schools of Planning, 2012-
American Planning Association Illinois Chapter Executive Committee, ex officio. 2012-2015.
Planning Accreditation Board Site Visiter.
Nominations and Elections Committee, Association of Collegiate Schools of Planning, 2012-
American Planning Association Illinois Chapter Executive Committee, ex officio. 2012-2015
Education
Ph.D. Rutgers University, Urban Planning and Policy Development. 1986
M.C.R.P. Rutgers University, Urban Planning and Policy Development. 1980
B.S. Indiana State University, Urban Studies, 1978