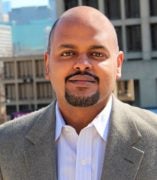 Nebiyou Tilahun
Associate Professor
Urban Planning and Policy
Contact
Building & Room:
236 CUPPA Hall, MC 348
Address:
412 S. Peoria St., Suite 236
Office Phone:
Email:
About
Nebiyou Tilahun joined the Department of Urban Planning and Policy in 2012. His main research interests are in the area of travel behavior, accessibility, and the social issues surrounding transportation. He earned a PhD in Civil Engineering from the University of Minnesota in 2010. His recent research has focused on social networks and travel behavior, transit last mile problems, and assessing the equity of transit accessibility. He directs the Travel Behavior & Urban Systems Research Group.
Selected Publications
Li, M. and N. Tilahun (forthcoming) Time Use, Disability, and Mobility Among Older Americans. Transportation Research Record: Journal of the Transportation Research Board.
Tilahun, N. and D. Levinson (2017). Contacts and Meetings: Location, Duration and Distance Traveled. Travel Behavior and Society. Volume 6. pp. 67-74.
Thakuriah, P., N. Tilahun and M. Zellner Eds. (2016). Seeing Cities through Big Data: Research, Methods and Applications in Urban Informatics, Springer. Edited Volume.
Tilahun, N., Thakuriah, P., Li, M., and Y. Keita (2016) Transit Use and the Work Commute: Analyzing the Role of Last Mile Issues. Journal of Transport Geography. Volume 54. pp 359-368.
Tilahun, N., & Li, M. (2015). Walking Access to Transit Stations: Evaluating Barriers with Stated Preference. Transportation Research Record: Journal of the Transportation Research Board, (2534), 16-23.
S. Yin, M. Li, N. Tilahun, A. G. Forbes, and A. Johnson (2015) Understanding Transportation Accessibility of Metropolitan Chicago through Interactive Visualization. In Proceedings of the ACM SIGSPATIAL International Workshop on Smart Cities and Urban Analytics (UrbanGIS).
Tilahun, N. and Yingling Fan (2014) Transit and Job Accessibility: An Empirical Study of Access to Competitive Clusters and Regional Growth Strategies for Enhancing Transit Accessibility. Transport Policy, Volume 33, pp. 17-25.
Education
2010 Ph.D. University of Minnesota, Twin Cities Civil Engineering
2005 M.Sc. University of Minnesota, Twin Cities Civil Engineering
2001 B.Sc. University of Minnesota, Twin Cities Civil Engineering