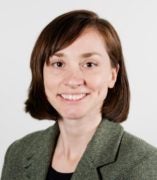 Kate Lowe, Ph.D.
Associate Professor
Urban Planning and Policy
Pronouns: She/her/hers
Contact
Building & Room:
238 CUPPA Hall, MC 348
Address:
412 S Peoria St, Chicago, IL 60607. Suite 238
Office Phone:
Email:
CV Download:
Related Sites:
About
Kate Lowe studies transportation at the intersection of policy, funding, and mobility justice. Her work examines how varied stakeholders and transportation policies interact across different levels of government and how this impacts transportation investments and racial inequities. She also conducts qualitative research on lived experiences of mobility and accessibility for low-income populations and Black and Brown communities. She received a Ph.D. in City and Regional Planning from Cornell University, a M.A. in Community Development and Planning from Clark University, and a B.A. in Cultural Anthropology from Bard College.
Twitter: @kateontransport (personal account)
See Google Scholar link above for academic publications and below for recent other writing.
Lowe, K. (2022, November 9). Debate over TIFs should not delay Red Line extension. Chicago Tribune. Available at https://www.chicagotribune.com/opinion/commentary/ct-opinion-red-line-extension-tif-funding-20221109-wjygoisf7ve7lnck2odnkj3aly-story.html.
Lowe, K., Sutton, S., & Tilahun, N. (2022, July 19). Debate over speeding tickets misses larger point about traffic safety. Chicago Sun-Times. Available at https://chicago.suntimes.com/2022/7/19/23270237/debate-over-speeding-tickets-misses-larger-point-about-traffic-safety.
Lowe, K., Reed, O.O., & Barajas, J. (2022, March 11). Walking, biking and rolling—and disparities in getting around in Chicago. Crain's Chicago Business.  Available at https://www.chicagobusiness.com/equity/infrastructure-investments-must-address-mobility-disparities.