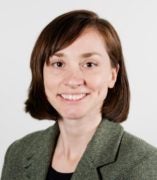 Kate Lowe, Ph.D.
Associate Professor
Director of Undergraduate Studies
Urban Planning and Policy
Pronouns: She/her/hers
Contact
Building & Room:
238 CUPPA Hall, MC 348
Address:
412 S Peoria St, Chicago, IL 60607. Suite 238
Office Phone:
Email:
CV Download:
Related Sites:
About
Kate Lowe studies transportation at the intersection of policy, funding, and social equity. Her work examines how varied stakeholders and transportation policies interact across different levels of government and how this impacts transportation investments. Much of her work has focused on how federal funding programs interface with local funding, with an emphasis on equity implications. She also studies the transportation perspectives and experiences of low-income populations and has completed work on low-income households in Louisiana. Most recently, she is turning to racial dynamics and local investment choices around streetcars, as well Chicago-based qualitative research on low and moderate income communities of color. She received a Ph.D. in City and Regional Planning from Cornell University, a M.A. in Community Development and Planning from Clark University, and a B.A. in Cultural Anthropology from Bard College.
Twitter: @kateontransport