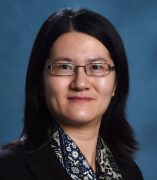 Jiaqi Liang
Assistant Professor
Public Administration
Contact
Building & Room:
CUPPA Hall 140
Address:
412 S. Peoria Street, CUPPA Hall 140 (MC 278)
Office Phone:
Email:
CV Download:
Related Sites:
About
Jiaqi Liang is an assistant professor in the Department of Public Administration. She received a Ph.D. in Public Administration (with a second major in Comparative Politics) from the School of Public Affairs at American University.
Research
Dr. Liang's research interests encompass public management, bureaucratic politics, public policy process, policy analysis, social equity, environmental and energy policy, and comparative public administration and policy. Her current research agenda primarily covers three areas:
One section of her research explores the effects of policy design and public management practices on government agencies' environmental policy implementation activities in the U.S., as well as the implications of the adoption of equity-oriented policies for government's program management under environmental federalism.
Another line of her research probes the relations between organizational diversity, representativeness of the public sector, diversity management, governmental performance, and social equity.
Her third research area examines questions related to bureaucratic motivation, performance incentives, and policy implementation in government agencies and quasi-public organizations (e.g., state-owned enterprises) in China, in the context of results-based management in environmental and energy policies.
Dr. Liang's research has appeared in a variety of public administration and public policy journals, including the Journal of Public Administration Research and Theory, Public Administration Review, Public Administration, International Public Management Journal, and Policy Studies Journal.
ORCID: https://orcid.org/0000-0002-2307-7057
Teaching
PA 515: Bureaucracy and the Policy Process (Ph.D.)
PA 505: Public Management Practices (MPA)
PA 494: Comparative Public Administration: China/U.S. (MPA)
PA 401: Foundations of Public Service (formerly Public Administration Theory) (MPA)
PA 240: Environmental Policy (undergraduate)
Service to Community
Member, Herbert A. Simon Book Award Committee, American Political Science Association, 2019
Member, Kenneth J. Meier Award Committee, Midwest Political Science Association, 2019
Member, H. George Frederickson Award Committee, Public Management Research Association, 2017
Notable Honors
2018, 40 for 40 Fellowship Award for Outstanding Early Career Research Professionals, Association for Public Policy Analysis and Management
Education
Ph.D., Public Administration, School of Public Affairs, American University, 2014
MPA, Public Affairs, Truman School of Public Affairs, University of Missouri, 2009
LL.M., Dispute Resolution, School of Law, University of Missouri, 2007