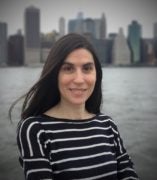 Agustina Laurito
Assistant Professor
Public Policy, Management and Analytics
Pronouns: she/her/ella
Contact
Address:
412 S. Peoria Street, 136, MC 278
Email:
Related Sites:
About
Agustina Laurito is an Assistant Professor in the Department of Public Administration. She is an applied policy researcher who uses administrative and survey data and quasi experimental methods to answer questions at the intersection of social, education, and health policy mostly in urban contexts. Agustina is broadly interested in how adverse experiences affect children and families and the role of public policy in ameliorating these effects. Among her current projects, she studies food assistance programs, and SNAP in particular, neighborhood crime and children, and more recently the effect of the opioid crisis on children and families. Agustina is also interested in immigrant families and children and her projects in this area investigate the role of non-school factors, including the home country, in shaping immigrant children academic success and well-being.
Teaching Fall 2022 
PPOL 231 Introduction to Social Policy
PPOL 405 Evaluating Public Policies and Programs
Past Teaching 
PPOL 307 Policy Analysis and Alternatives
PA 506 Policy Development, Analysis, and Implementation
PA 540 Research Design for Public Administration
Selected Grants
Tufts/UConn Research Innovation and Development Grants in Economics (RIDGE) Program, "SNAP, School Meals, and the Food Security of Multigenerational Households", PI
University of Illinois Chicago - Award for Creative Activity, "The Effect of the Heroin Epidemic on Grandparent Caregiving", PI
Russell Sage Foundation, "Racial/Ethnic Differences in Homeownership and Gaps in Student Achievement", PI
University of Illinois Chicago - Award for Creative Activity, "Public Mental Health Facility Closures and Criminal Justice Contact in Chicago", Co-PI
Selected Publications
Laurito, A., Schwartz, A.E., & Elbel, B. (2022). Exposure to local violent crime and childhood obesity and fitness: Evidence from New York City public school students. Health & Place. Vol. 78. 
Cordes, S. A., & Laurito, A. (2022). Choice and change: The implications of charter school expansion for school and neighborhood diversity in NYC. EdWorkingPaper: 22-556.
Zandiatashbar, A., & Laurito, A. (2022). An Empirical Analysis of the Link Between Built Environment and Safety in Chicago's Transit Station Areas. Journal of the American Planning Association, 1-15.
Laurito, A. (2022). The Effect of Home Country Natural Disasters on the Academic Outcomes of Immigrant Students in New York City. Education Finance and Policy, 17(2), 309-334.
Schwartz, A. E., Laurito, A., Lacoe, J., Sharkey, P., & Ellen, I. G. (2021). The academic effects of chronic exposure to neighborhood violence. Urban Studies. https://doi.org/10.1177/00420980211052149
Cantor, J., & Laurito, A. (2021). The new services that opioid treatment programs have adopted in response to COVID-19. Journal of Substance Abuse Treatment, Volume 130.
Laurito, A., & Schwartz, A. E. (2019). Does School Lunch Fill the "SNAP Gap" at the End of the Month?. Southern Economic Journal, 86(1), 49-82.
Laurito, A., Lacoe, J., Schwartz, A. E., Sharkey, P., & Ellen, I. G. (2019). School climate and the impact of neighborhood crime on test scores. RSF: The Russell Sage Foundation Journal of the Social Sciences, 5(2), 141-166.
Education
PhD New York University
MPP Duke University