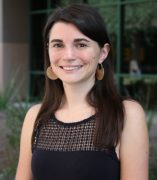 Federica Fusi
Assistant Professor
Public Policy, Management and Analytics
Contact
Building & Room:
2113 AEH
Address:
400 S Peoria Street (MC 278), Chicago IL 60607
Office Phone:
Email:
CV Link:
Related Sites:
About
I am a public management scholar.
My research interests lie at the intersections of organizational theory, technology use and adoption, and networks of collaboration and sharing.
My work looks at how organizational structures and managerial practices shape technology use and adoption, as well as how technology impacts organizational design and outcomes, including information sharing, collaboration and socialization.
Selected Publications
Fusi, F. & Feeney, M. K. (2016). Social media in the workplace: information exchange, productivity, or waste? The American Review of Public Administration. Doi: 0275074016675722.
Fusi, F. & Feeney, M. K. (2017). Electronic monitoring in public organizations: Evidence from US local governments. Public Management Review. Doi: 1080/14719037.2017.1400584
Fusi, F., Manzella, D., Louafi, S., & Welch E. (2018). Building global genomics initiatives and enabling data sharing: Insights from multiple case studies. Omics, A Journal of Integrative Biology. https://www.ncbi.nlm.nih.gov/pubmed/29584582
Service to Community
Ad hoc reviewer: Academy of Management Conference, Public Personnel Management, Public Management Review, Journal of Public Administration Research and Theory, Review of Public Personnel Administration, Journal of Urban Affairs, Science and Public Policy Journal.
Education
PhD in Public Administration and Public Policy (2018). Arizona State University (Phoenix, USA)
MSc in Economics and Management for Public Administration and International Institutions (2012). Università Commerciale L. Bocconi (Milan, Italy)
MA in Territorial and Urban Strategies (2011). Sciences Po (Paris, France)
BA in Economics and Management for Arts, Culture and Communication (2009). Università Commerciale L. Bocconi (Milan, Italy)