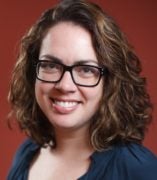 Em Hall
PhD Student
Research Assistant
Urban Planning and Policy
Pronouns: she/her
Contact
Building & Room:
CUPPA Hall
Email:
About
Em is a third-year PhD student whose research explores the role of nonprofit organizations in transportation public-private partnerships. Before beginning her PhD, Em spent nearly 15 years working in the nonprofit sector in Washington, DC and Chicago.
She holds a BA with Honors in Political Science from the University of Chicago; MA's in Philanthropic Studies and US History from Indiana University; a Certificate in Integrated Marketing from UChicago's Graham School; and a Public Transit Planning & Management Certificate from UIC's College of Urban Planning and Public Affairs (CUPPA).
Catch her watching Law & Order or teaching her old cats new tricks.
Selected Publications
Peer-Reviewed Article
Lowe, K., & Hall, E. (2018). New Starts, Growing Inequities: Federal and Local Public Transit
Funding. Public Works Management & Policy. https://doi.org/10.1177/1087724X18808533
Report
Sriraj, P.S., Hall, E., McCarthy, M., and Dirks, L. (2019). Mobility Management: State of the States
Report. Chicago, IL: Urban Transportation Center at UIC.
Service to Community
Communications Chair, UIC Graduate Employees Organization (GEO) April 2019 – Present
Volunteer & Event Photographer, WTS International March 2016 - Present
President, UIC College of Urban Planning Ph.D. Students (CUPPS) May 2018 – April 2019
Organizing Chair, UIC Graduate Employees Organization (GEO) April 2018 – March 2019
Vice President, UIC College of Urban Planning Ph.D. Students (CUPPS) Sep 2017 – May 2018
Notable Honors
2019, Dwight David Eisenhower Transportation Fellowship, U.S. Department of Transportation
2018, Dwight David Eisenhower Transportation Fellowship, U.S. Department of Transportation
Education
AB with Honors, Political Science - The University of Chicago
MA, Philanthropic Studies - Indiana University
MA, US History - Indiana University
Licensures and Certifications
Certificate in Integrated Marketing - The University of Chicago Graham School
Public Transit Planning and Management Certificate - University of Illinois at Chicago
Professional Memberships
WTS International
Women in Planning Development