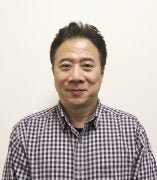 Jie Chen
Information Technology Manager/Administrative Coordinator
Office of the Dean
Contact
Address:
412 S. Peoria St., Ste 115
Office Phone:
Email:
About
As the manager of CUPPA computer systems, Jie is tasked with overseeing and supporting all daily system operations. Jie purchases and maintains computer software and equipment, troubleshoots tech issues for faculty, staff, and students, and ensures optimal network security. Furthermore, he serves as the liaison between CUPPA and the university's ACCC. Prior to working in the Office of the Dean, Jie was in CUPPA's Survey Research Laboratory (SRL) for nearly twenty years, where he oversaw all computer system operations, from software programming to hardware maintenance and upgrades. He also developed and created many programs for SRL administration and survey projects, and oversaw the SRL webpage.
Jie's background is as a classical music musician. He graduated from Shanghai Conservatory of Music in 1982 and then served in the Shanghai Symphony Orchestra as a bassoon player until he came to the U.S. in 1986. He received his Master's Degree in Music in 1988 and his Performer's Certificate in 1989, both from Northern Illinois University. After working as a musician, Jie started studying computer language programming and network administration at DePaul University, the College of DuPage, and the Microhard Co, where he received his engineering license. He then worked as a network engineer and administrator at Sentinel Technologies, and at the DaiIchi Kongyo Bank before coming to CUPPA in 1999.
Notable Honors
2014, Award of Merit, UIC
Education
Shanghai Conservatory of Music, 1982
Master's degree in music from NIU, 1988
Performer's Certificate from NIU, 1989
Certificates of Network from DePaul and College of DuPage Engineering License, Microhard Co.