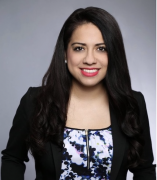 Cynthia Brito
PhD Student, Urban Planning and Policy
Graduate Research Assistant
Pronouns: she,her,hers
About
Cynthia Brito is a 6th year Ph.D. student in the Department of Urban Planning and Policy. Cynthia's research examines how practices of the informal economy like mutual aid and co-ops allow Black and Latinx communities to survive and thrive in an era of multi-scalar crisis. She is a community organizer in areas of racial justice, abolition, and immigration. She serves as the advisor to the Revolutionary Youth Action League (ROYAL) a community organization of BIPOC youth working on issues of racial justice, LGBTQIA+, and police violence.
Cynthia originates from a working-class, first-generation Mexican family that settled in Uptown, Chicago. She now resides in Oak Park with her two teen daughters, Jocelyn and Marlene, two sons Remy and Santi, husband Mario, and cat Ohtli. She enjoys biking, camping, playing soccer, dancing, and spending time with family and friends. She continues to work on various issues including immigration, education, reproductive justice, and youth issues.
Service to Community
Cynthia is the advisor and mentor for the Revolutionary Youth Action League, (ROYAL), a community organization of Black and Latinx youth working on issues of racial justice. As a scholar-activist consultant, she bridges her academic knowledge with movement space experience to cultivate bilingual workshops on the topics of:
*Racial Justice, Identity, and Equity
*Adultism and Youth Agency
*Building Community Safe Space/Brave Space
*Community Dialogue Facilitation
*Anti-Blackness in the Latinx Community
*Radical Motherhood
*Abolition: Flexing your Radical Imagination
Notable Honors
2018-2022, Pipeline to Inclusive Faculty Fellow (PIF), University of Illinois at Chicago
Education
Cynthia holds a Master's and a Bachelor's degree in Latin American and Latino studies with high distinction from the University of Illinois at Chicago (UIC).
Research Currently in Progress
Cynthia currently serves as a graduate research assistant for the Institute for Research on Race and Public Policy.