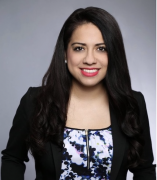 Cynthia Brito
PhD Student, Urban Planning and Policy
Research Assistant
Pronouns: she,her,hers
About
Cynthia Brito is a 3rd year Ph.D. student in the Department of Urban Planning and Policy. Her research involves examining the strategies that community organizing offers Black and Latinx urban youth to survive and thrive in a moment of heightened racial unrest and how this creates an opportunity for making urban planning processes more inclusive. Also, how youth formulate spatial problems, organize themselves spatially both physically and virtually, establish organizations and implement their agenda. Her research builds on literature on the topics of community self-determination, youth organizing, urban governance and policy formation and implementation.
Cynthia originates from a working-class, first-generation Mexican family that settled in Uptown, Chicago. She now resides in Oak Park with her two teen daughters, Jocelyn and Marlene, two sons Remy and Santi, husband Mario, and cat Ohtli. She enjoys biking, camping, playing soccer, dancing, and spending time with family and friends. She continues to work on various issues including immigration, education, reproductive justice, and youth issues.
Service to Community
Cynthia is an organizer with Freedom to Thrive, an abolitionist organization in Oak Park working on reimagining public safety. She is also the advisor and mentor for the Revolutionary Oak Park Youth Action League, (ROYAL), a community youth organization of Black and Latinx youth working on issues of racial justice. As a scholar-activist consultant, she bridges her academic knowledge with movement space experience to cultivate bilingual workshops on the topics of:
*Racial Justice, Identity, and Equity
*Adultism and Youth Agency
*Building Community Safe Space/Brave Space
*Community Dialogue Facilitation
*Anti-Blackness in the Latinx Community
*Radical Motherhood
*Abolition: Flexing your Radical Imagination
Notable Honors
2018-2022, Pipeline to Inclusive Faculty Fellow (PIF), University of Illinois at Chicago
Education
Cynthia holds a Master's and a Bachelor's degree in Latin American and Latino studies with high distinction from the University of Illinois at Chicago (UIC).
Research Currently in Progress
Cynthia currently serves as a research assistant for the Social Autopsy of COVID19 Racial Disparities Study. She is responsible for recruitment, development of research tools, interviews and translation. Additionally, she holds a second research assistantship for the Andrew Mellon Funded Sawyer Seminar Radical Alternatives, Radical Care podcast series being released Spring 2021.