Spring MCD Studio Wins APA-IL Chapter's Student Project Award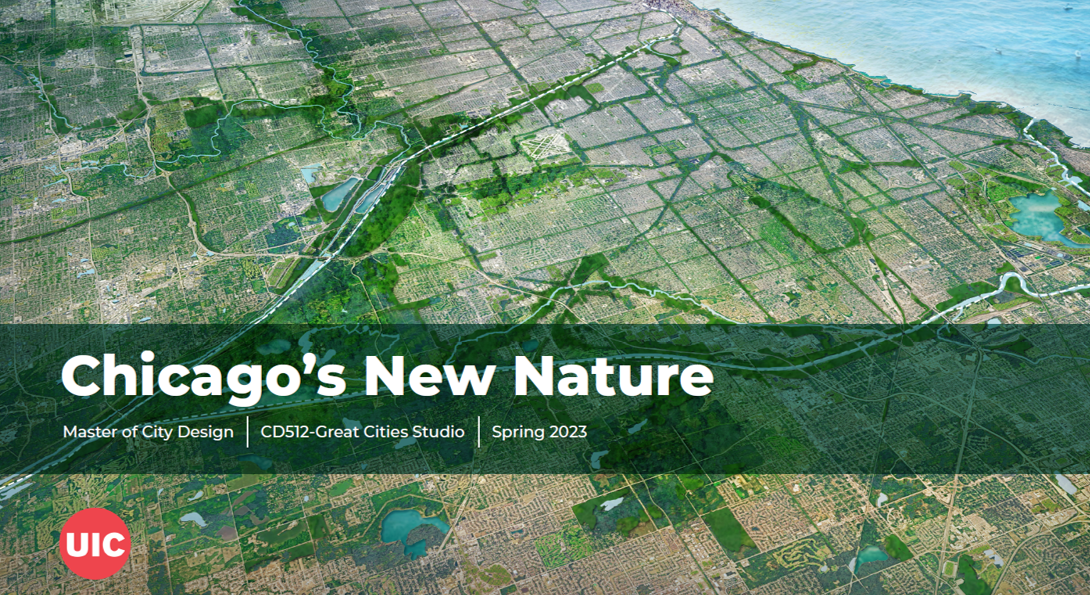 The Spring 2023 Master of City Design (MCD) Studio has been awarded the American Planning Association - Illinois (APA-IL) Chapter's Student Project Award.
This marks the third year in a row that CUPPA students have received this award and the second year in a row for the MCD program. Their winning submission, titled Chicago's New Nature: An Ecological Override Plan, "provides a pathway for a new kind of built environment, one which embraces the City in a Garden's rich and diverse ecotones." The project focuses on the inner island of land created by the confluence of the Des Plaines River, the Chicago River, and the Calumet Sag Channel on the south and southeast sides of Chicago.
A description of the project and the full plan are available on the APA-IL Chapter Award's website.
According to Sevin Yildiz, one of the studio's instructors,
"This was a highly challenging and provocative brief for our studio. We aimed students to reveal and map out the stark ecological divide between Chicago's North and South sides. While they proposed stitching corridors and islanded communities through new ecological design ideas, they also revisited norms and land use standards that have shaped our cities legally and physically. The final project was a call for a new understanding of urban nature in the climate change era."
Congratulations to:
Studio Instructors: Sevin Yildiz and Phil Enquist
Team Members: Abdullah Chaudhry, Aayush Patel, Alek Jaunzemis, Dinesh Prasad, Grace Hebert, Mikaela Uddfolk, Molly Delaney, Neha Thunga, Janhavi Manjrekar, Wen Po Hsu, Punya Vats, Ravi Thakker, Sara Zandi, and Shashwat Arya