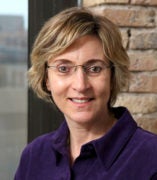 Zorica Nedovic-Budic
Professor
Urban Planning and Policy
Contact
Building & Room:
229 CUPPAH, MC 348
Address:
412 S. Peoria St., Suite 215
Office Phone:
Email:
CV Download:
Related Sites:
About
Prof. Nedović-Budić's research and teaching activities revolve around planning, cities and technology. The questions that drive her work are related to geographic information systems (GIS), spatial data and infrastructures and their role in facilitating planning processes and outcomes. The current interest is in integration and utilization of the emerging non-institutional crowd-sourced data acquired via mobile apps and social media. On the city planning side, Prof. Nedović-Budić is engaged in comparative study of planning systems and urban development practices, focusing on transitional societies of post-communist Europe.
Selected Grants
ESPON - Europe, COMPASS – EU Territorial Gov. and Plan., Co-PI
European Commission - FP7, TURAS - Urban Transition to Resilience, PI
Irish Science Foundation, Geospatial Infrastructure & Flooding, PI
Selected Publications
Knaap, Gerrit, Zorica Nedovic-Budic and Armando Carbonell (Eds). 2015. Planning for States and Nation States in the U.S. and Europe. Cambridge, Massachusetts: Lincoln Institute of Land Policy.
Cvetinovic, Marija, Zorica Nedovic-Budic and Jean-Claude Bolay. 2017. Decoding urban development dynamics through Actor-network methodological approach. Geoforum 82: 141-157.
Nedovic-Budic, Zorica, Gerrit Knaap, Harutyun Shahumyan, Brendan Williams and Aleksander Slaev. 2016. Measuring Urban Form at Community Scale: Case Study of Dublin, Ireland. Cities 55: 148-164. DOI: 10.1016/j.cities.2016.02.014
Ran, Jing and Zorica Nedovic-Budic. 2016. Integrating Spatial Planning with Flood-Risk Management: A New Conceptual Framework for the Spatially Integrated Policy Infrastructure. Computers, Environment and Urban Systems 57(1): 68-79.
Service to Community
Associate Editor, Journal of Urban Planning and Development (2016-present);
Board of Management, Marian College, Dublin, Ireland (2011-16);
Book Review Editor, Journal of the American Planning Association (past)
Professional Leadership
Executive Committee, Assoc. of Euro Schools of Planning AESOP
Board of Directors (past), Uni Consortium Geog Info Science UCGIS
Board of Directors (past), Urban/Regional Info Systems Assoc URISA
Notable Honors
2016 / 2011, Conference Ambassador / President's, Irish Tourism Board / Enterprise Ireland
2008, Fulbright Scholarship, Fulbright Commission
2002, Plaque - Contribution to Profession, Association of Serbian Planners
1999, Service, URISA / ILGISA
Education
PhD, University of North Carolina @ Chapel Hill, 1993
MURP, University of Illinois @ Urbana-Champaign, 1989
BSc Spatial Planning, University of Belgrade, Serbia, 1984
Licensures and Certifications
Professional Memberships
Member, American Planning Association (APA)
Member, Irish Planning Institute (IPI)
Member - institutional: Association of  Collegiate Schools of Planning (ACSP); Association of European Schools of Planning (AESOP)
Selected Presentations
World Planning Schools Congress, Rio de Janeiro, Brazil, July 3-8, 2016
Presentations: Spatially Integrated Policy Infrastructure (SIPI) for Planning and Flood Risk Management: Design and Evaluation (with Jing Ran)
Reusing Dublin: Evaluating the utility of a crowdsourced / web mapping tool for addressing underutilization of spaces in Dublin (with Aoife Corcoran)
Research Currently in Progress
COMPASS – Comparative Analysis of Territorial Governance and Spatial Planning Systems in Europe (2016-2018), collaborator in a multi-partner consortium, PI: TU Delft; source: European Spatial Planning Observation Network - ESPON [€900,000; UCD €50,000; 2016-2018]
Land Markets, Urban Policy, and Social Equity: An International Comparative Perspective, Co-PI; sponsor: Lincoln Institute of Land Policy [$25,000; UIC $10,000; 2017-2019]