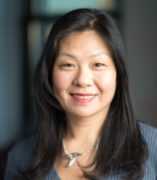 Kathleen Yang-Clayton
Clinical Assistant Professor
Public Administration
Contact
Address:
400 S Peoria Street, 2109 AEH, MC 278
Office Phone:
Email:
CV Link:
About
Dr. Kathleen Yang-Clayton brings extensive legislative, advocacy, organizing and applied research experience to her clinical professor position in the Department of Public Administration, College of Urban Planning and Public Affairs at the University of Illinois-Chicago. She is Director of Undergraduate Studies and Civic Partnerships for the Department, ensuring that the growth and expansion of the bachelor's degree program in public policy engages the top government, nonprofit and philanthropic leaders in the city and state.
Her experience in social justice and racial equity campaigns includes immigrant and voting rights issues, with a current focus on expanding the use of racial equity policy analysis across a range of sectors and issue areas. Her cross-movement work on voting rights resulted in the passage of landmark legislation in Illinois that expanded access to underserved communities through Same Day Registration. She has given presentations and participated on panels related to voting rights, redistricting and racial equity at numerous conferences and meetings.  She is a co-founder of a racial equity leadership development organization, sits on several boards and associations, is the faculty adviser for UIC's chapter of the Roosevelt Institute and recipient of a civic engagement research award for UIC faculty by the Institute for Policy and Civic Engagement at UIC for spring 2018.
Her extensive background in nonprofit advocacy, management and leadership informs her teaching approach in her class Nonprofits and Civil Society (PPOL230) and Individual Action and Democratic Citizenship (PPOL100). She also teaches a master's level course on Management and Leadership in Public Organizations (PA468) that places a strong emphasis on values-based policy and decision-making. Her past experience is reflected in her course content, with an emphasis on team-building and leadership development, emphasizing story-telling and narrative change in policy campaigns, and the use of technical models such as racial equity impact analysis tools to improve the impact of policies across the city and state for all communities.
Dr. Yang-Clayton received her Ph.D. in Sociology from the University of Chicago. She also holds a M.S. in Natural Resource and Agricultural Economics from the University of Arizona and has worked as an agricultural economist for the World Bank in Sub-Saharan Africa.  She has served on numerous committees and commissions such as the Chicago Metropolitan Agency for Planning and the Institute for Translational Medicine at the University of Chicago and is a 2014 Edgar Fellow. When not thinking about policy and political reform, Kathleen is an avid tabletop gamer who has aspirations to design a tabletop game that blends SimCity with Warhammer40k as a training platform for Master's students studying public health and emergency management.
Selected Grants
Illinois Department of Human Services, IL, Census 2020 Technical Assistance Project, Co-Principal Investigator, $870,000 total award/$419,000 direct, Co-Principal Investigator, FY21 renewal award, $255,000
Institute for Policy and Civic Engagement, Faculty Research Award, Creating Census Ambassadors for UIC Census Engagement, Co-Principal Investigator, $20,000 award
The Forest Preserves of Cook County, Training for the Racial Equity, Diversity and Inclusion Committee, Cook County, IL, Principal Investigator, $14,000 award FY19 , Principal Investigator, $41,000 award FY20
City of Evanston, IL, Racial Equity Impact Analysis in the Delivery of Social Services, Principal Investigator, $5,000 award
Institute for Policy and Civic Engagement, College of Urban Planning and Public Affairs, Faculty Research Award, "Representative Democracy and Local School Council Races in Chicago: Does School Governance Improve with Elected Local School Councils?", Principal Investigator, $20,000 award
W.K. Kellogg Foundation, Asian Americans and Pacific Islanders Midwest Research Collaboratory, Principal Investigator, $260,000 award
Chicago Community Trust, Capacity Building Grant for Advancing Justice, Principal Investigator, $65,000
McCormick Foundation, AAPI in Democracy Project, Principal Investigator, $40,000
Joyce Foundation, AAPI and Voter Modernization in IL, Principal Investigator, $300,000 (multiple year grant)
Service to Community
Board member, City Bureau, 2018 to present
Founded in 2015, City Bureau is a nonprofit civic journalism lab based in Woodlawn on the South Side of Chicago. We bring journalists and community members together in a collaborative spirit to produce equitable media coverage, encourage civic participation and hold powerful forces to account.
Board member, The Jefferson Center, 2018 to present
Our primary tool for deliberation and education is the Citizens Jury, which was invented by our founder Ned Crosby in 1971. Citizens Juries are built on the belief that when given the knowledge, resources, and time, groups of everyday citizens can create powerful solutions to today's biggest challenges.Today, the Citizens Jury approach serves as the basis for methods like citizens assemblies, citizens panels, and other community engagement programs around the world.
Education
PhD in Sociology - The University of Chicago
M.S. in Natural Resource and Agricultural Economics - The University of Arizona
Professional Memberships
Member, Chicago Civic Collaboratory, 2018 to present
In 2018, The Chicago Community Trust and Citizen University are partnering to pilot the first place-based Civic Collaboratory, designed to bridge the gap as a mutual aid society and project incubator for Chicago's most innovative civic practitioners and catalysts from across the political spectrum.
Edgar Fellow
The Edgar Fellows Program focuses on developing leadership and governing capacity in Illinois. It emphasizes the need to forthrightly address major policy issues without permitting partisan, ethnic and regional rivalries to trump statesmanship. It is designed to influence attitudes and foster mutual understanding. It holds the promise of facilitating bipartisan and cross-regional cooperation as class participants assume more influential public leadership roles.
Selected Presentations
"Addressing COVID-19: Fostering Equity In and Out of the Classroom" Webinar, Co-Sponsored by the American Society for Public Administration and NASPAA. June 4, 2020.
"Dismantling White Supremacy in Public Service Organizations and Society." Webinar, American Society for Public Administration. June 17, 2020
"Racial Equity From Agency wide Initiatives to Social Service Programs." Webinar, University of Illinois Extension Local Government Education Series. July 16, 2020.
2018. Interview, Channel 2 CBS Chicago, March 28, 2018, "The Question of Citizenship and the Census"
2018. Panel organizer, Midwest Public Administration Conference, May 29, 2018, "Racial Equity Impact Analyses in Chicago: Lessons from Schools and Transportation projects"
2017. Speaker, Deliberative Democracy Consortium's Research and Practitioner Meeting, October 20, 2017, UIC, "The promise of deliberative democracy in school governance in Chicago"
2016. WGN-CLTV Interview on voting rights - August 2016
Research Currently in Progress
Utilizing Inclusion to Improve Policy Outcomes: The Intersection between Racial Equity Impact Analysis and Public Administration
The Limits of Representative Democracy in Micro-level Administrative and Policy Spheres: The case of Local School Councils in Chicago Public Schools