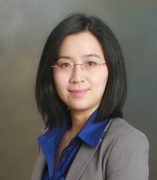 Jing Wang
Visiting Clinical Assistant Professor
Public Policy, Management and Analytics
Contact
Address:
400 S. Peoria Street, rm 2105
Email:
CV Link:
About
Dr. Jing Wang teaches courses in public budgeting and finance, policy analysis, and urban policies and management. Her research investigates the effects of urban (re)development on local government's financial condition, the governance and fiscal structure of infrastructure and special districts, and social equity measurement in municipal service privatization. Dr Wang's research interests also include the community participation, urbanization and its fiscal consequences in urban China.
Teaching
Graduate Courses
PA 401: Public Administration Theory
PA 504: Financial Management and Budgeting
PA 506: Public Policy Development and Process
PA 526: Public Policy Analysis
PA 494: Comparative Public Administration
PA 468: Urban Leadership and Management
Undergraduate Courses
PPOL 210: Introduction to Policy Process
PPOL 303: Bureaucracy and Public Policy
PPOL 309: Public Budgeting and Financial Management
Selected Publications
Zhang, X, Wang, J, & Xu, L. (2019). Between autonomy and supervision: The interpretation of Community Supervisory Committee reform in Hangzhou, China. Cities, 88, 91-99.
Wang, J., & Gorina, E. (2018). Fiscal effects of municipal annexation: Evidence from a large national sample of urban municipalities. Growth and Change, 49(4), 612-635.
Emerson, S. & Wang, J. (2017). Re-examination of ethical responsibility of public administrators: An empirical analysis of the legislative view. Public Integrity (Apr), 1-17.
Wang, J., & McFadden, E. (2016).The absence of social equity measurement in municipal service privatization: Are residents feeling dumped on? State & Local Government Review, 48(1), 1-9.
Chen, Z., Li, D. & Wang, J. (2010).Citizens' attitudes toward local government public services: A comparative analysis between the City of Xiamen and the City of Phoenix. Public Performance and Management Review, 34(2), 221-235.
Fan, B., Zhang, M.,Chen, F. & Wang, J. (2010). Government waste in China: Situation, causes, and countermeasures. Asian Survey, 50(4), 2010, 684-708.
Education
• PhD in Public Administration & Policy, Arizona State University, 2012
• MA in Management, Zhejiang University, 2007
• BA in Political Science, Zhejiang University, 2005