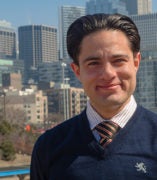 Jack Rocha
Community Development Planner
Great Cities Institute
Contact
Building & Room:
449 CUPPA Hall, MC 107
Address:
412 S. Peoria St., Suite 400
Office Phone:
Email:
About
Jack Rocha, MUPP, is a Research Specialist at the Great Cities Institute (GCI) at University of Illinois at Chicago, where he engages in urban planning, research, and building connections between local communities and the Great Cities Institute's Neighborhoods Initiative (2013-present). Projects include commercial corridor plans with Chicago's South Chicago and Back of the Yards communities; and neighborhood plans for the Rosemoor and North Pullman communities. He also works on program development with other UIC departments related to GCI initiatives. He is also responsible for organizing a thematic semester lecture series with 10 to 15 speakers on topics such as 21st Century Economies, Planning for Diversity, and Planning and Policy in Suburban Chicago. He holds a BA in Political Science (2004) and Master of Urban Planning and Policy (2015), both from University of Illinois at Chicago. He is on the board of the South Chicago Development Corporation.
Previously, Rocha interned with Claretian Associates, a Chicago community development corporation, where he engaged in homeowner outreach, developed a database of housing constructed by Claretian Associates, designed a survey for homeowner engagement, and created detailed descriptors of Claretian housing styles (2014). He also served as an intern for Chicago's 10th Ward Alderman (2011-2013), where he helped coordinate government services for residents and completed policy research.
Rocha's interests include neighborhood history and change, urban design, community development, housing, manufacturing, and workforce development.