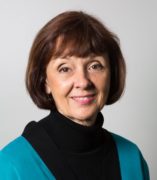 Kathleen M Engstrom, MBA, MHSA
Associate Dean for Administration
Office of the Dean
Contact
Building & Room:
115 CUPPA Hall, MC 350
Address:
412 S. Peoria St., Suite 125
Office Phone:
Email:
About
Kathleen Engstrom is the Associate Dean for Administration in the College of Urban Planning and Public
Affairs (CUPPA) at UIC. In this position, she is responsible for the overall administrative, fiscal and
business operations in the college, including financial planning and reporting, budgeting, human
resources, research administration and facilities management. Since assuming her position at CUPPA in
2015, Kathleen has worked with the Dean and college leadership to implement administrative
efficiencies, established a shared services model for research administration and has overseen the
building, construction and personnel operations associated with the 2015 damage to the CUPPA building
and subsequent repair and return to normal operations. Kathleen served on the OBFS team that
developed the current Effort Reporting System and currently to serves on the ARS (Activity Reporting)
Committee and the ITGC (Information Technology Governance Committee). Her professional interests
include organizational changes to increase efficiencies utilizing a variety of approaches including a
shared services, systems documentation and employee education, in addition to a continuing a
continuing interest in research administration and facilities management.
Kathleen earned a Bachelor's degree in Nursing (BSN) from the University of Michigan. She spent over
10 years working as a registered nurse in a variety of health care settings including hospital intensive
care units in Michigan, Wyoming and Arizona and public health nursing in rural Wyoming. She then
obtained a Masters in Health Services Administration (MHSA) and Masters in Business Administration
(MBA) from Arizona State University. After completing an administrative residency at Mayo Clinic
Scottsdale and Mayo Clinic Rochester, she worked at Mayo Clinic Scottsdale in clinical and basic research
administration for 10 years. Kathleen joined UIC in 2000 as an Assistant Director in the Office of
Research Services (ORS), then worked in the College of Medicine as a Director of Administrative
Operations (DAO) in two departments under the implementation of a shared services model, before
joining CUPPA in 2015.