CUPPA Alumni Board Seeks New Members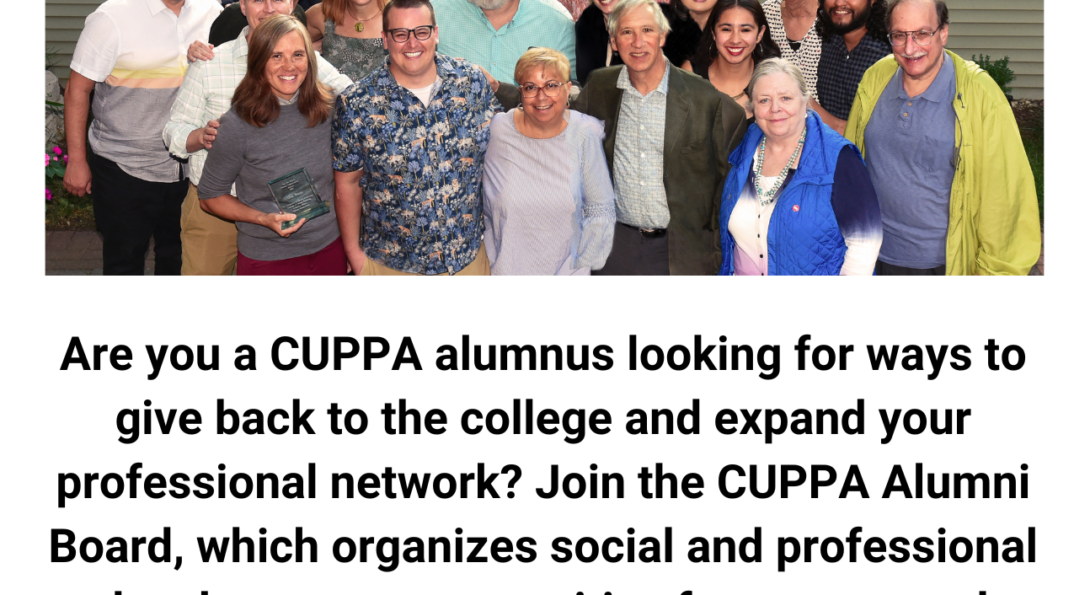 Founded in 1997, the CUPPA Alumni Association plays a vital role in the growth and advancement of the College of Urban Planning and Public Affairs at UIC. The goal of the CUPPA Alumni Association is to provide educational and career development opportunities to alumni and current students, strengthen professional and social networks, and support the college through fundraising and other partnerships.
If you are interested in serving on the CUPPA alumni board, please complete the application form at bit.ly/CUPPAalumniboard and tell us a bit about yourself. Our board leadership will get in contact with you to discuss next steps. PLEASE NOTE: For the 2023 board election on Tuesday, May 9, please complete this application by 5 P.M. MAY 1. Please contact us at uic.cuppa.aa@gmail.com with any questions.
The CUPPA alumni board includes between 15-20 leaders from a wide array of professional backgrounds and experiences. Membership is open to any CUPPA alumnus and voted on every two years at the May meeting. Each term lasts two years, and board members may be reappointed to a maximum of four consecutive terms.
Board members are expected to make an annual monetary contribution to CUPPA that is meaningful to them, attend at least three of the quarterly meetings each year, and engage in other ways such as actively participating in a committee, serving as a mentor to a current student, and attending alumni board events.