Albert J. Schorsch, III 1951-2017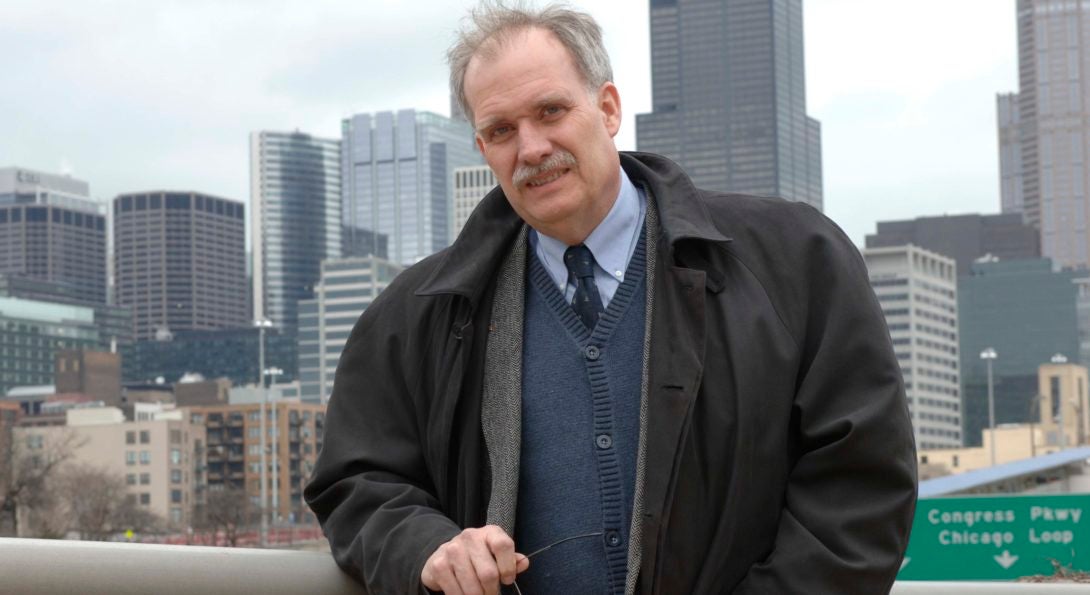 Remembering Al by Michael A. Pagano, Dean
I am deeply saddened to report that our dear colleague, administrator, CUPPA historian, counselor and friend, Albert J. Schorsch, III, surrounded by his loving family, died October 28, in his home after a lengthy illness.
As a Renaissance man, Al could bring manifold lens to the most simple and mundane of life's experiences, as well as to the most complex. Mozart and Drucker, Kant and St. Augustine. Al was fluent in the affairs of the world, ancient and modern. And he was a selfless, religious man of grace and giving. His faith and devotion meant he was a humble man, never giving in to one of the seven deadly sins, pride. Just the opposite. In his farewell letter to his staff [at the time of his retirement], he said: "As I've written before, my career has been a bit like the character Bert in the Disney film Mary Poppins. I appear one day as a one-man band, and the next as a chimney sweep.  My job has been to bring out the magic in others." That we are better for having known Al and having been nurtured by his good will, it was because of his own sense of himself, of someone who was devoted to others.
And music, of course. Music filled his life, at work and home, and at commencement and in CUPPA Hall when he would often play the piano. Al enjoyed many genres of music, but was deeply touched by classical music and its architects. Mozart, among them, who reminded what Al I'm sure always knew: (even though Al would be quite embarrassed by it):
"Neither a lofty degree of intelligence nor imagination nor both together go to the making of genius. Love, love, love, that is the soul of genius."
Even after officially leaving the university, Al continued to be a guide for all of us and that is something that will never end.  Al was like no other.  I'm sure he is walking the heavens laden with keys to every door and room in the hereafter, checking on everyone and making sure they are taken care of.  Just as he did while he was here.  We will deeply miss him.  And he will always be with us.
Here is just a sampling of Al's contributions to the university and CUPPA in particular:
Worked for and advised all five deans of CUPPA.
Coordinated the move of CUPPA to CUPPA Hall in 1998, and simultaneously negotiated higher CUPPA bandwidth with ACCC for CUPPA.
Was named Associate Dean in 1999, a position he has held to this day.
Served as Acting Dean of CUPPA, 1999-2000.
Addressed the U of I President's Retreat at UIUC in 1999, calling for an addition to the UI Integrate project of a facilities job control program (this became UIC's FMWeb system) and a research document management system (this became UIeRA, the predecessor to the MyResearch portal project now under way).
Posted CUPPA's first web page.
Established all of CUPPA's existing listservs.
Initiated the call for and participated in the Provost's GIS Task Force in 1999-2000, which led eventually to a maps librarian at the Daley Library, universal GIS license availability for UIC faculty and students, and UIC membership in the University Consortium of Geographic Information Science. CUPPA's universal ESRI GIS software access was the result.
UIC Senate Subcommittee on Buildings and Grounds participation since 1998. Chair since 2000. Senate Support Services Committee service since 2000.
Founded the CUPPATECH and CUPPA Front Desk teams, along with the CUPPA Safety, Security, and Building Conditions Committee, and the Healthy CUPPA Committee.
Authored and championed the proposal for the Urban Data Visualization Lab for the 1997 CUPPA Strategic Plan. Served as founding and interim Director of UDVL until turning the unit over to UPP faculty. UDVL acting director and initiating investigator, 1998-2001, 2004-7, Great Cities Urban Data Visualization Lab, funded as a recurring campus lab, 1998.
Provided CUPPA oversight for the construction of new ADH classrooms ending in 2005.
Negotiated space for additional new AEH classrooms from VCAA and CADA – 2004-2013.
Coordinated Advanced Learning Lab classroom planning and oversight for construction. • Successfully managed the repair of the CUPPA passenger elevator after a 16 year effort, with masonry-window, HVAC, and other improvements ongoing, an 18 year effort.
Assembled and trained highly capable business, finance, and HR staff over an 18 year period throughout CUPPA.
Championed the Certified Research Administrator training on campus, increasing CRAs on campus from one to over 40, with several CUPPA staff attending the review and four earning the CRA.
Championed Lean Six Sigma training on campus, with trained or actively training colleagues numbering almost 150, with several CUPPA staff participating.
Mentored a generation of faculty, students and staff in the art of inquiry, self -discovery, trouble-shooting, experimentation, respect for our fellow humans, and a commitment to the social good.
Our deepest love and sympathy go to Al's wife Betsy, his children and grandchildren, his mother, and extended family.
(excerpts from emails of Dean Pagano, 10/29/17 and 12/10/14)
Service information is available at Belmont Funeral Home, Chicago.
Modified on January 12, 2018