Jun
9
2023
MCD Graduate Capstone Presentation
Master of City Design Summer Studio aka 'Chicago Charrette'
June 9, 2023
6:30 PM - 9:00 PM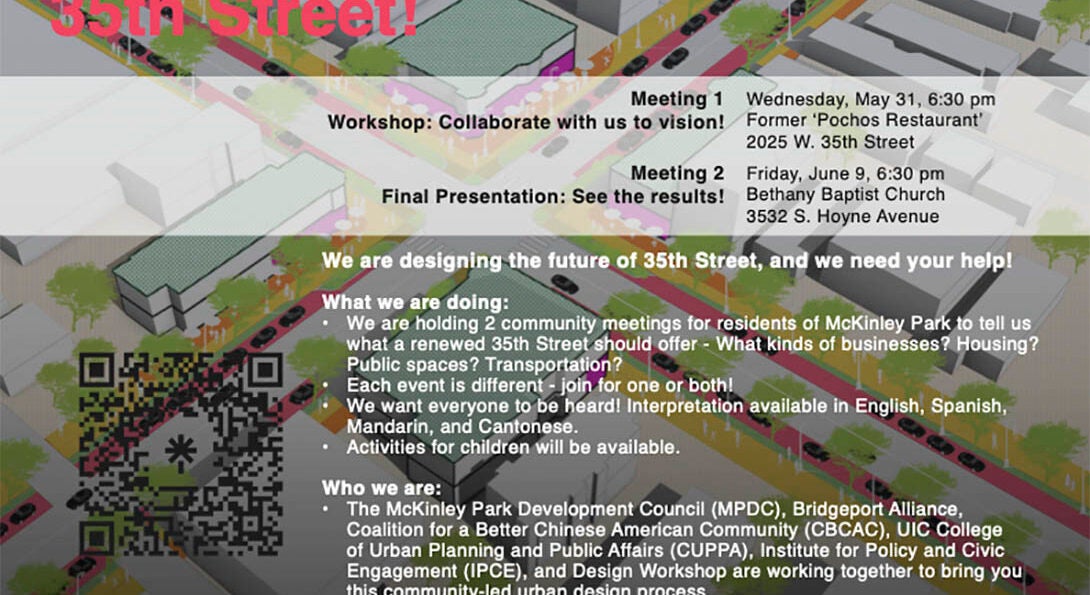 Location
Bethany Baptist Church
Address
3532 S. Hoyne Avenue, Chicago, IL
We are designing the future of 35th Street, and we need your help!
We are holding 2 community meetings for residents of McKinley Park to tell us what a renewed 35th Street should offer - What kinds of businesses? Housing?
Meeting 1 Wednesday, May 31, 6:30 pm
Workshop: Collaborate with us to vision! Former 'Pochos Restaurant'
2025 W. 35th Street
Meeting 2 Friday, June 9, 6:30 pm
Final Presentation: See the results! Bethany Baptist Church
3532 S. Hoyne Avenue
Who we are:
The McKinley Park Development Council (MPDC), Bridgeport Alliance, Coalition for a Better Chinese American Community (CBCAC), UIC College of Urban Planning and Public Affairs (CUPPA), Institute for Policy and Civic Engagement (ICE), and Design Workshop are working together to bring you this community-led urban design process.
For more information, contact MPDC at mckinleyparkdevelopmentcouncil@ gmail.com or visit mckinleyparkdevelopmentcouncil.org
Date updated
May 31, 2023