Jan
24
2020
10th Annual Urban Innovation Symposium
January 24, 2020
9:15 AM - 9:45 PM
Location
UIC Student Center East and National Museum of Mexican Art
Address
750 S Halsted St, 1852 W 19th St, Chicago, IL 60607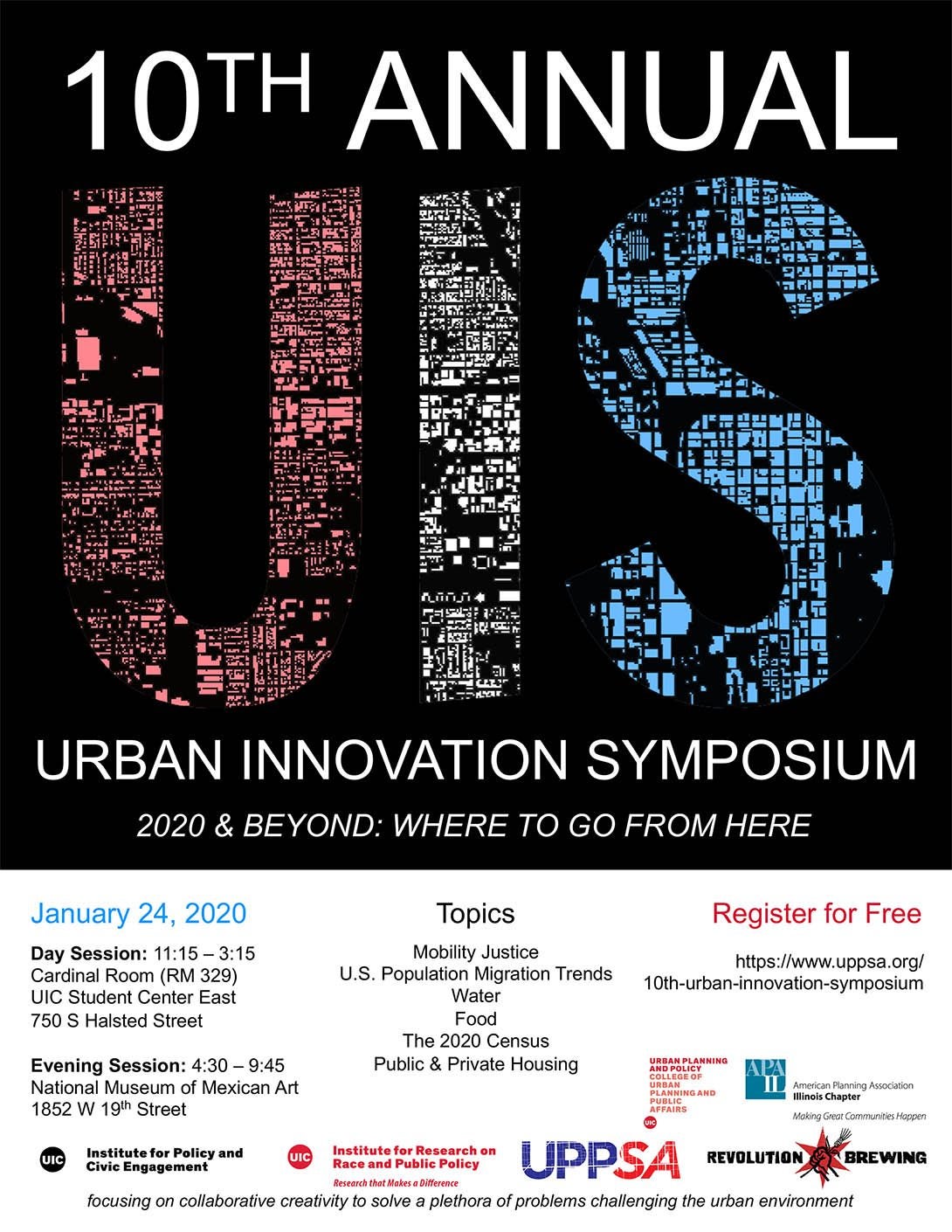 To RSVP or to find more information on the UPP's 2020 Urban Innovation Symposium, please visit the event website: https://www.uppsa.org/10th-urban-innovation-symposium or contact akoern3@uic.edu.
UIC's Urban Planning and Policy Student Association is hosting the 10th annual Urban Innovation Symposium on January 24th, 2019. The 2020 Urban Innovation Symposium will return to its roots by focusing on collaborative creativity to solve a plethora of problems challenging the urban environment.
This year's symposium will touch on Mobility Justice; Water Justice and Accessibility; Food systems; emerging migration trends in Chicago; the tensions between public and private approaches in housing; and of course, the 2020 Census Efforts. Don't miss this opportunity to explore perspectives different from your own, and come away with renewed energy for conversation and collaboration!
The keynote speaker will be journalist Alden Loury, Senior Editor: Race, Class and Communities for WBEZ Chicago.
The Department of Urban Planning and Policy (UPP) at UIC has led the way in preparing students for careers for over 40 years. Grounded in social equity and sustainability, we teach students to use innovative concepts and technology to address urban issues. The Urban Innovation Symposium is one of the many events that UPP holds regularly for students, staff, and the public.
Date updated
Dec 13, 2019