Josh Deth, MUPP '05, Founder of Revolution Brewing, Receives Alumni Group's Marek Award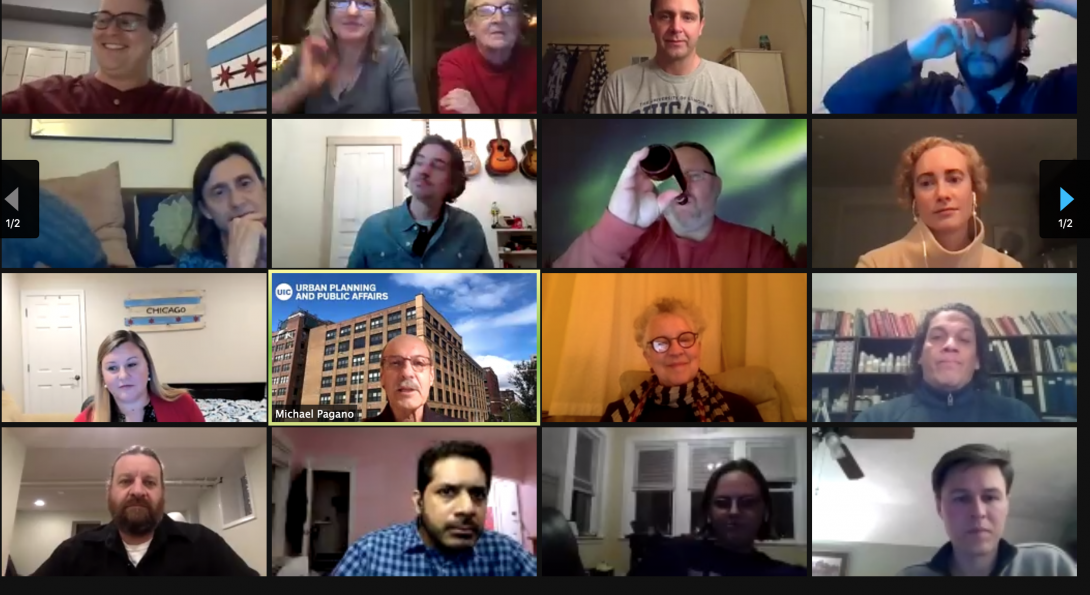 Part beer innovator, part restaurateur and a fully accomplished entrepreneur, Josh Deth, MUPP '05, has been named recipient of the Jim Marek CUPPA Alumni Association Appreciation Award. Deth is the owner and operator of Chicago's acclaimed Revolution Brewing, which has grown into Illinois' largest independent craft brewery in a span of 10 trailblazing years. As recently as 2019, Revolution was not only No. 40 in the entire United States among craft breweries based on volume, it was No. 50 when corporate beer-making entities were considered, according to the Brewers Association of Boulder, Colo.
Deth officially was named the 2020 Jim Marek CUPPA Alumni Association Appreciation Award recipient, with presentation of the honor delayed until January, 2021 at a virtual reception because of the ongoing COVID-19 pandemic. Deth's pandemic-related business challenges included lower sales volume for the first time in its 10-year history. In addition, Revolution's brew pub on Milwaukee Ave. was reduced to curb-side pick up after closing to customers in October for health and safety reasons. Deth has remained upbeat during unprecedented times.
"I'm honored to receive this award from the CUPPA Alumni Association in honor of Jim Marek," Deth said. "It is clear through Revolution's success what the [UIC CUPPA] program has meant. Thank you to the alumni volunteers, educators and staff who keep our community connected, even during a pandemic."
Deth worked closely with Urban Planning and Policy Professor Janet Smith back in 2005 to finish his MUPP degree on a project that piqued his interests as an avid recreationalist and community activist. Deth elected to revive an old proposal to turn 3 miles of elevated train tracks, no longer in use, into a place for recreation. From his MUPP project came the Bloomingdale Trail and the Friends of the Bloomingdale Trail that Deth co-founded.
Deth's can-do style then led to the 2010 opening of his 12,500 square-foot brewery and brew pub that helped spur development in its Logan Square neighborhood. An additional 90,000-square foot production brewery and taproom, where kegs and cans are filled, was added nearby in 2012.
Deth also worked for the Logan Square Chamber of Commerce before Revolution was launched. Deth's work with the chamber of commerce led him to the building that would become his current brew pub. That brew pub is set to reopen in April after a six-month closure.
"As the founder of one of Chicago's most iconic breweries, Josh has brought to business the spirit of a planner and a CUPPA education," said CUPPA Alumni Association Board President Joshua Hahn. "He's a community activist and involved in community development. He also has a reputation of supporting CUPPA students whenever they ask. The positive impact CUPPA alumni have on our community and region manifests itself in so many different and wonderful ways! Josh is a great example of this."
The CUPPA Alumni Association has presented the CUPPA Alumni Appreciation Award recognizing individuals or groups for their dedication to the fields of urban planning and public administration and their contributions to the development of the college's students and alumni. In November 2010, the Board of Directors of the CUPPA-AA voted unanimously to rename the award to the Jim Marek Alumni Appreciation Award honoring the former CUPPA assistant dean for student services, Jim Marek. Marek retired from his post in CUPPA on February 6, 2007 after over twenty-nine years of service to the university, its students and alumni. He unexpectedly died on August 13, 2010.