Questions and Answers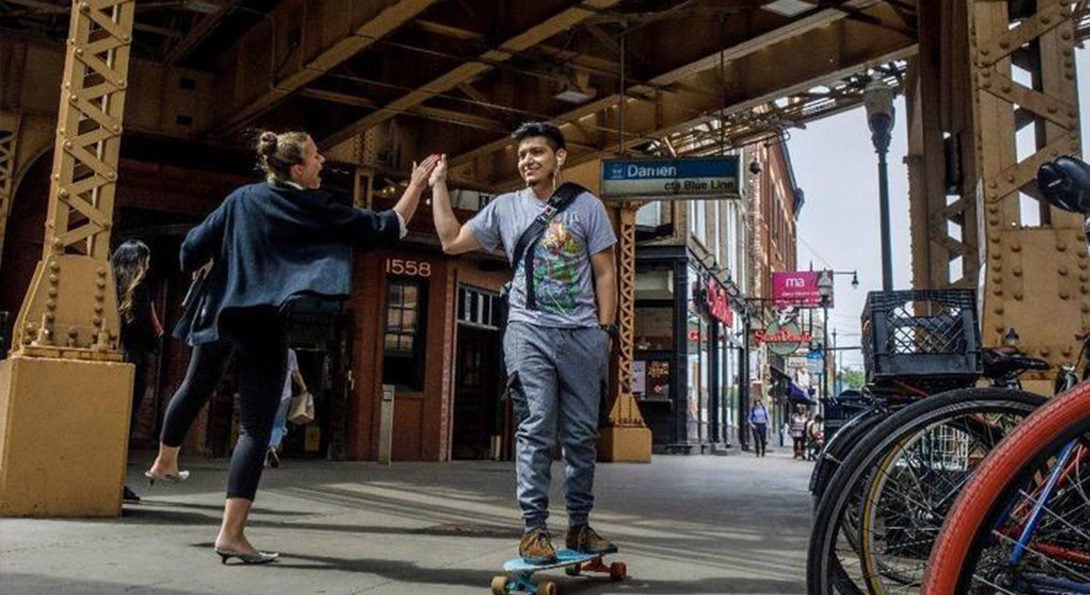 The following Questions and Answers will provide valuable information about the Master of City Design degree at UIC.  Should you have additional questions or need clarification, please send an email to citydesign@uic.edu.
Q/A
Q1

City design is about enhancing the quality of urban life for everyone by improving the physical aspects of our settlements. The fields of urban planning and city design have continued to gain importance in recent times, both in line with a growing urbanized population worldwide and the perceived significance of large global cities like Chicago in contemporary human life. 

Since a diverse range of people and places typically comprise human settlements, city designers frequently collaborate with different planning actors like place-based communities, public officials, subject-experts, real-estate developers, and progressive leaders interested in improving the built environment. In this respect, the fields of city design and urban planning routinely overlap with several professions such as architects who design individual buildings and civil engineers who design the in-between infrastructure. Urban planners focus upon the relationships and interaction effects among the different features of human settlements (such as employment locations, transportation networks, and air and water quality) by combining social, economic and political concepts and insights; while city designers concentrate upon the physical design aspects of these relationships.

The discipline of urban planning developed with the rise of modern metropolis around the turn of 19th century to overcome the limitations of much-older fields of architecture and civil engineering, which focused exclusively on the physical design of objects rather than the study of spatial relationships that shape their location and interaction over time; especially the complex social and institutional causes. The discipline of city or urban design began to develop more recently, from the 1960s, with a growing appreciation for vibrant public places and inclusive civic spaces vital to creating better cities than previous efforts.  
Q2
q2

Yes, the two terms are broadly similar in meaning and purpose, but the word 'city' helps bring out our intellectual orientation as well as (brag a bit about) UIC's geographical location.  We use the term 'city design' following Kevin Lynch, a true pioneer of the urban design field. Lynch introduced the term for illustrating the connections between human values and the physical form of cities [that he considered vital for human civilization and further progress of our species] in order to describe how good city form might look like—both when conceived on paper and built on the actual ground.

Following this line of thinking, we believe that city design is best studied in rich urban contexts, like those available in Chicagoland, which provide an empirical basis through which our rapidly urbanizing planet can be experienced, analyzed, comprehended, re-conceptualized and eventually made better. In addition, our centrally-located campus at the heart of Chicago metropolitan region offers the unmatchable advantage of exploring a stunning range of differently-designed urban and suburban places offering pertinent lessons and relevant insights for students from near and far, home and abroad.
Q3
Q3

UIC is Chicago's only public research university with an exceptionally diverse enrollment of more than 30,000 students from all over the world. With an explicit commitment to support and promote great cities of the world, UIC is also one of the only universities in the nation that is designated as both Research-Extensive and Hispanic-serving.

Housed in the college of urban planning and public affairs—devoted exclusively to studying public policies and urban planning initiatives supporting and shaping the public good—the Department of Urban Planning and Policy (UPP) offers the largest graduate planning program in North America, both in terms of current student enrollment and number of alumni over the last decade. Evident in extensive areawide linkages with a variety of allies and partners ranging from community organizations to planning agencies and professional design firms, few institutions can possibly match our University's collective commitment to urban places and their issues. MCD's robust leadership provides testimony to the importance we accord to this program.
Q4
Q4

The MCD curriculum is carefully conceived to help select students, drawn from an international pool of applicants, learn the craft of urban design within a community-oriented and city-focused environment. Students learn how to plan for the physical design of cities using spatial thinking that combines analyses of places, meaningful engagement with diverse communities, and design knowledge across scale. Hands-on field-based studio learning provides immersive exposure to integrated design and contemporary professional practice in complex urban places across Chicago. See detailed course descriptions here.
Q5
Q5

UPP's 18 full-time faculty, as well as more than 20 visiting and adjunct faculty, are from different generations and backgrounds. Urban designers, spatial planners, community and economic development planners, environmental scientists, urban thinkers, political economists, human geographers and social activists enrich UPP's cultural life. International representation and engagement is strong including one member each from Canada, Columbia, Japan, Argentina, Syria, China, Ethiopia, India and Serbia. All members of the full-time faculty hold a doctorate while many have substantial experience in various forms of urban design and city planning practice. UIC's proximity to the center of Chicago combined with the department's solid reputation and vast alumni network has allowed us to draw on a distinguished group of affiliated scholars and practitioners with a variety of interests, philosophies, and specializations for co-teaching in the MCD program.
Q6
Q6

We welcome students from a wide variety of backgrounds: architecture, landscape architecture, urban studies / planning, and other creative fields such as engineering, graphic design and literature. Apart from meeting basic requirements, all applicants must, however, demonstrate a command over basic drawing skills and an abiding passion for cities and be ready to showcase these via a personal portfolio of work.
Q7
Q7

As mentioned before, boundaries between professions shaping the built environment are often fluid. Urban planning and city design graduates, for example, work in and for architecture and engineering consulting firms because they offer the kind of spatial reasoning and expertise that addresses the demands designing for urban places all across the globe. But urban planning and city design graduates also work for governments, foundations, community organizations and other agencies seeking to anticipate and cope with the unexpected interactions generated in the process of making and using the physical features of settlements. Architects and engineers seek urban planning and city/urban design knowledge and degrees if and when they want to do this work. See the career path of some of our recent graduates here.