To the CUPPA Class of 2021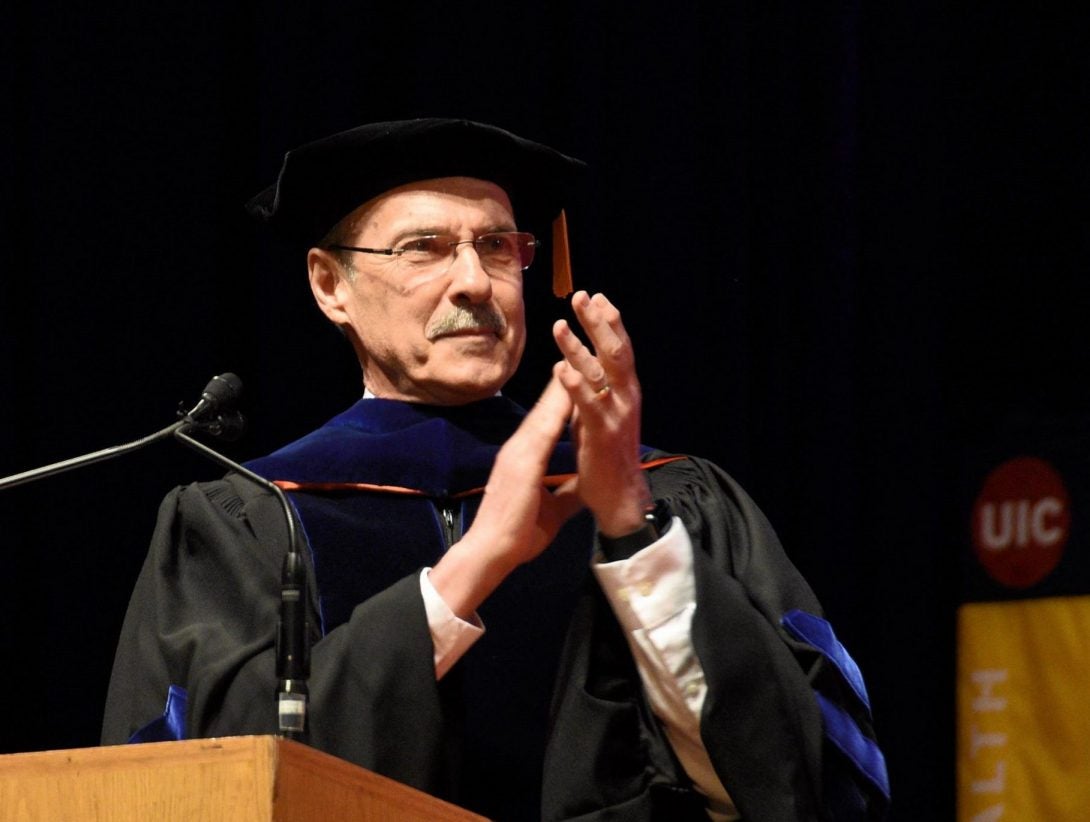 Hello. Hóla! Cómo están? How are you? It looks like you're having a great party. You deserve it… I can see your family and friends are enjoying themselves too. Six feet in every direction! and for some, no high-fives yet. No handshakes yet. No hugs. And let's hope this is the last time that this once-in-a-lifetime celebration of this milestone, graduating from UIC and CUPPA, is held virtually.
I am Michael Pagano, Dean of the College of Urban Planning and Public Affairs and on behalf of all of us at CUPPA, I lift my glass high to all of you in recognition of this singular accomplishment, graduating from one of the nation's premiere colleges, one that is dedicated to good governance, equity, collaborative problem solving, and promoting just, resilient, and livable communities. Congratulations! At this time, everyone should backslap the graduate and hoot and stomp and holler and say, 'well done'.
This is a season of change and this is a season for change. This is a moment in time. This past year has felt both like an eternity and an instant. The season of change includes changes in faculty, as we welcome Dr. April Jackson to the Urban Planning and Policy Faculty and send our deepest appreciations to two faculty members who will retire after this semester, Dr. James Thompson in Public Administration who completes 26 years in CUPPA, and Dr. Zorica Nedovic-Budic, in Urban Planning and Policy who served three years as head of the department. Their impact and careers at UIC are memorable and long-lasting. And, on behalf of all the faculty, staff and students at CUPPA, as well as the alumni, I bid them a fond farewell.
And I too will be retiring later this year and will, like you, turn the page to the next chapter of my life. As this chapter comes to a close, I remain humble and grateful to UIC and CUPPA for providing me research and leadership opportunities at one of the most prized Colleges in the world dedicated to justice, equity, and enhancing the human condition.
The season for change is upon us now, this moment. Paraphrasing an 18th century abolitionist, Martin Luther King, Jr framed an important trajectory for us at a commencement address he delivered in 1964: He said "The arc of the moral universe is long, but it bends toward justice". In these times, all of us, not just those who have been subjected to injustice, have witnessed the effects of disparities, racial injustice, history, and how society rides on the back of evolving mores and culture to perpetuate inequities. And also, to address them. The arc of the moral universe is not automatic; it requires human hands to direct and shape it.
Your charge, as graduates of CUPPA, is to improve governance and policy effectiveness as fair and honest implementers of public solutions, to enhance and create vibrant spaces and places as designers and collaborators of great communities, and to exhort the elected representatives of the people to always ensure that our communities and our society continue to bend toward justice. As we in CUPPA hand diplomas to you in recognition of your outstanding accomplishment of achieving a degree, we also hand you the capabilities and opportunities to shape the future. And we in CUPPA do so knowing that we and our progeny are in good hands. We are confident that you will assume your rightful place in society and intentionally guide and bend the moral universe toward justice, equity and a more perfect union. For all of us. For the sum of us.
As you take on the awesome responsibilities that have been handed to you, don't forget to take time to smell the roses and learn stand-up comedy and enjoy the fresh sunrise and glorious sunset and tell everyone you've ever wanted to say 'hello' and 'thanks' to but never had the time. Be a part of the community that reinvents and elevates humanity. It's not a spectator sport. Don't envy all the dancers who had all the nerve. Be the dancer and lead the way. This is the season of change and for change.
I suspect that this is a defining moment in our history, in your history. It is a reference point to which you will compare future events. If 9/11 is a distant memory which some generations point to as a pivot point in their lives, COVID-19 and the resonant call for racial equity will be yours.
Congratulations class of 2021……. Now, go on back to celebrating your graduation with an air elbow bump or an emoji hug. Soon in the next few months or so and for some of us even in this moment, we will once again experience social gatherings and bend the arc of the moral universe. Well done.